This time, Greg Blackburn knew what to do to conserve his energy.
Last year, he had to settle for second when he and Pat Turner, his paddling partner in the Northern Hardware canoe race, were outsmarted by Fay and Mike Vincent of Regina in the race to the finish.
On Sunday, Blackburn teamed up with Ryan Stepka of Chelsea, Que., and for a good chunk of the 67.5-kilometre Alexander Mackenzie class race on the Nechako River they found a way to save fuel by riding the wake of the five other lead boats.
Once they had the Foothills bridge in sight, with about 25 minutes of hard paddling ahead of them to the finish on the Fraser at Lheidli T'enneh Memorial Park, Blackburn and Stepka kicked it into high gear and nobody had what it took to keep up to them. They won it, four hours two minutes and eight seconds after they launched themselves at Isle Pierre.
"There were six boats drafting together and it was kind of like cat-and-mouse for about 2 1/2 hours," said the 43-year-old Blackburn, who handled the stern duties. "It's fantastic to win. It was learning experience last year from the Vincents, who drafted 95 per cent of the time so they had a lot of energy to finish. This year we did the same thing, but everybody was wise to that, waiting for a move or for somebody to make a mistake. It was more of a strategic race this time."
The Vincents introduced Blackburn to Stepka in May when they were racing in the Canton Canoe Weekend events in New York state, where Blackburn finished 12th in a solo canoe race. Stepka's first trip to Prince George was an eye-opener.
"It's an amazing race, the scenery is terrific and the whitewater adds a bit of spice," said Stepka, 31, who coaches sprint and marathon canoeing in the Ottawa area. "The last rapid at Mud River was a little bit tricky but we made it through. Greg knows this river and he told me what to do and where we had to go, which was very helpful. It's a new race I've never done and I always like paddling on new bodies of water. It keeps it exciting."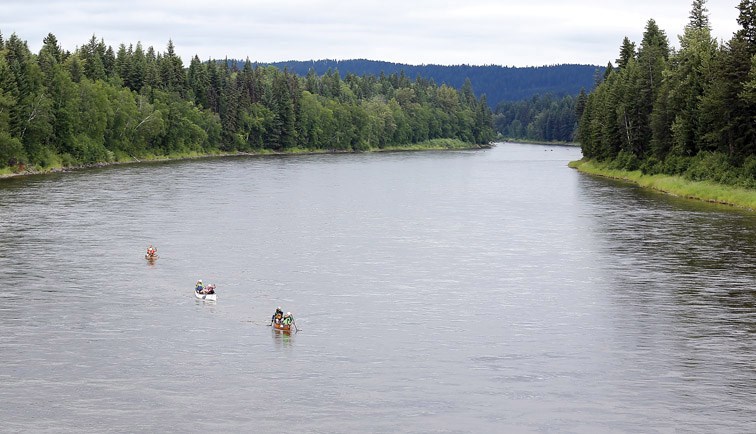 Marathon canoe veterans Chris Cupp and Harry James were second in the Mackenzie class, 1:05 off the winning pace, while the masters team of Darryl Spencer of Kamloops and Kim Dolzesar of Vernon clocked 4:05:26, third-best among the men.
'We saw (Cupp and James) try to pick a shorter line at the (Foothills) bridge and we just started our finish there," said Stepka. "That was probably the longest finish I've ever done, we went for 25 minutes hard. There was no way once we were ahead we wanted to let them catch us."
The river was about five feet shallower than last year and that made for a slower race. The Northern Hardware race was revived in 2015 after a 31-year absence to commemorate the city's 100th birthday.
"It was pretty relaxed for most of it and then when Greg and Ryan decided to go fast there was nothing we could do," said Cupp. "We thought we took a better line once, but they were just too fast. We learned a lot last year about riding the wash and biding your time - Harry and I didn't make any mistakes this year, we hit all the rapids right and had good lines the whole way through."
Debbie Chadwick, a former longtime P.G. resident who now lives in Vernon, hooked up with Deighen Blakely of Calgary to win the women's race from Isle Pierre. Their time of 4:07:13 ranked fifth overall. Catherine Hagen and Nikki Kassel, last year's women's champions, were 11 minutes behind Chadwick/Blakely, second in the women's Mackenzie class. Pat Turner and his wife Nadine Caron captured the mixed title, finishing in 4:19:31, while Amber Shipley/Kevin Taylor were second (4:25:18).
"It was hard work, especially near the end," said Blakely, who has raced with and against Chadwick for 20 years. "We were prepared for the rapids and got through them well and we got some good wake off the guys."
Said Chadwick: "It worked out that we got a ride from the top guys for almost a third of the race."
Chadwick's husband Ian had shoulder and elbow surgery four weeks ago but didn't let that get in the way of a first-overall finish in the Simon Fraser class, a 35km race from Miworth.
Chadwick's paddling partner, Christopher Nicholson of Sun Peaks, won the 2015 Simon Fraser title with Randy Brooks of Salmon Arm. Chadwick/Nicholson clocked 1:31:26, just ahead of Wendy and Tony Fiala (1:31:53) and third-place Martin Dabuger/Kevin Pettersen (1:32:12).
"It was easy for me because with Ian being from Prince George for so many years he knew the river," said Nicholson. "There were four or five boats in our division that were quite close for half of the race and we were fortunate. We led a little bit of it and we also were able to ride the wash of a couple of the other boats. It's like riding a surf wave.
"I'd say if we weren't able to ride and rest for a little bit, mid-race, we wouldn't have had the stamina."
Eighteen boats entered the Mackenzie race. Forty started and finished the Simon Fraser race, including Mike Davis and his standup paddleboard and a three-person crew (Jennifer Pighin, Clay Pountney and Nick Mortensen) who piloted a dugout canoe carved out of a cottonwood tree just in time for the race. Their boat, still wet with sap, sat about a foot deep in the water.
"It was fantastic - we didn't tip over, we stayed above water and we didn't come in last," said Pighin, who finished in 2:13, 30th in the Miworth race. "It's hard work, it's heavy.
"Nick is a very experienced paddler and he guided us and steered us the whole way."