A group of students from our friends down south have raised $9,000 for Indigenous cancer care here in Prince George.
Texas 4000, as they're called, is a non-profit organization that sees students engage in communities in the fight against cancer.
This is the first-ever donation to Indigenous cancer support at the B.C. Cancer Centre in Prince George which will help support a comfort fund for Indigenous patients, survivorship booklets, and elder involvement at the Prince George location as well as B.C. Cancer - Vancouver.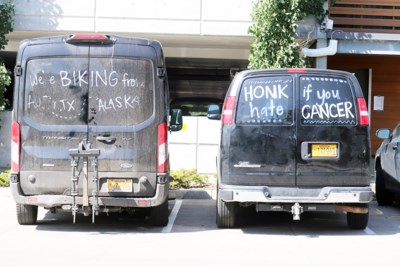 "We are incredibly grateful for the support of the Texas 4000 for Cancer team," Warren Clarmont, provincial director, Indigenous Cancer Control at B.C. Cancer says. "Their generosity will help make a difference for Indigenous patients and their families facing a cancer diagnosis."
Texas 4000 currently do a 70-day summer ride (4,000-mile bike ride from Austin, Texas to Anchorage, Alaska) while sharing hope, knowledge, and charity along the route.
The ride is the longest annual charity bike ride in the world. Since 2004, more than 800 students have done the ride while raising over $9.7 million and logging more than 4,718,000 miles.
"We strive to spread hope, knowledge, and charity," Alyssa Schmidt, team member of Texas 4000 for Cancer says. "Cancer affects too many of us, and we are proud to do what we can to help."
Another local ride, Wheelin' Warriors of the North, will participate in their seventh Ride to Conquer Cancer and have raised more than $750,000 to date.