In the next few days, owners of almost 250,000 properties throughout Northern BC can expect to receive their 2022 assessment notices, which reflect market value as of July 1, 2021.
"All during the pandemic, the real estate market has remained robust across the province including higher demand throughout Northern BC, which has resulted in higher 2022 assessment values for most homeowners in the region," says Northern BC Deputy Assessor Beau Rossel.
"Northern BC property values for most communities are generally up five to 35 percent with only a couple of exceptions."
BC Assessment collects, monitors and analyzes property data throughout the year.
In Prince George, the 2022 typical assessed value for a single family home increased by 20 per cent to $401,000, whereas in 2021 the typical assessed value for a single family home was $333,000.
Quesnel saw a 33 per cent increase in single family home value, Vanderhoof saw an 17 per cent increase and Williams Lake saw a 29 per cent increase.
Strata residential properties Northern B.C. also saw increases in market value.
In Prince George, the typical assessed value for condo or townhouse increased by 18 per cent from $186,000 in 2021 to $219,000.
Terrace saw an 18 per cent jump in market value for strata homes and Williams Lake saw a 19 per cent increase.
Overall, Northern BC's total assessments increased from over $72 billion in 2021 to over $81.7 billion this year. A total of about $1.24 billion of the region's updated assessments is from new construction, subdivisions and the rezoning of properties.
The Northern BC region encompasses approximately 70 per cent of the province: stretching east to the Alberta border, north to the Yukon border, west to Bella Coola including Haidi Gwaii and to the south, just north of Clinton.
BC Assessment's website at bcassessment.ca includes more details about 2022 assessments, property information and trends such as lists of 2022's top valued residential properties across the province.
Deputy Assessor Beau Rossel says those who feel that their property assessment does not reflect market value as of July 1, 2021 or see incorrect information on their notice, should contact BC Assessment as indicated on their notice as soon as possible in January.
"If a property owner is still concerned about their assessment after speaking to one of our appraisers, they may submit a Notice of Complaint (Appeal) by January 31st, for an independent review by a Property Assessment Review Panel," adds Rossel.
The Property Assessment Review Panels, independent of BC Assessment, are appointed annually by the provincial government, and typically meet between February 1 and March 15 to hear formal complaints.
"It is important to understand that changes in property assessments do not automatically translate into a corresponding change in property taxes," explains Rossel. "As noted on your assessment notice, how your assessment changes relative to the average change in your community is what may affect your property taxes."
2022 Northern BC Property Assessments Single Family Homes: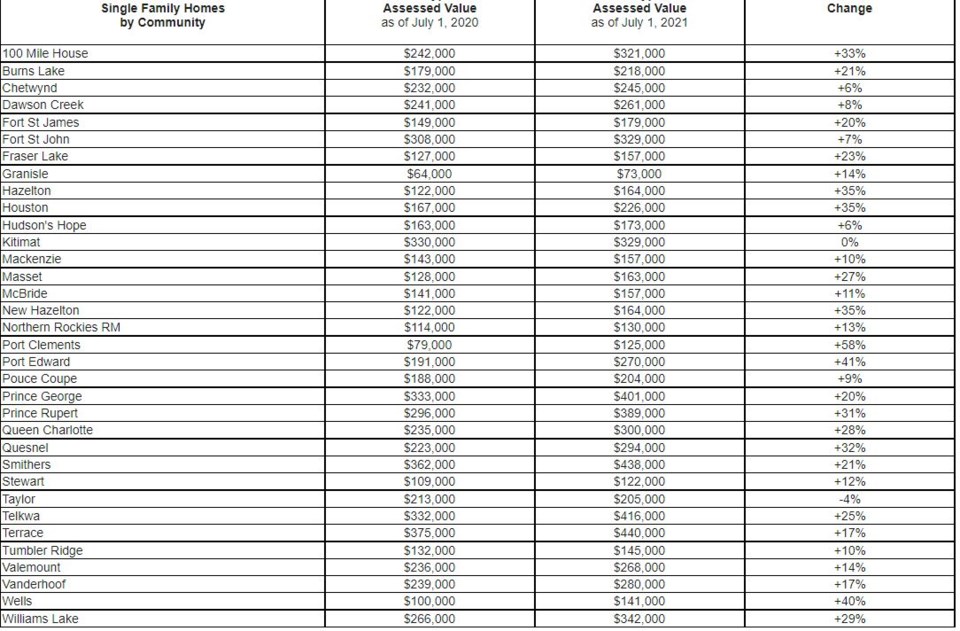 2022 Northern BC Property Assessments Strata: