Philomena Hughes credits Instagram for netting her an assignment that has drawn global attention to indigenous-lead healthcare in B.C.
The local photographer was asked to portray the stories of indigenous healthcare providers in Canada for The Lancet, one of the most prestigious medical journals in the world. The photo essay was featured in a special issue, released last week, focused on the successes and challenges in the Canadian healthcare system.
Hughes said the series came about after her name was put forward by Nadine Caron, a Prince George-based surgeon and chair of the B.C. Medical Association's Committee on Aboriginal Health. Caron was a contributor to one of the central articles of the issue, which also featured commentary by two researchers at UNBC, Federal Minister of Indigenous Services Jane Philpott and Prime Minister Justin Trudeau.
Hughes believed that the UK-based editors of The Lancet were initially skeptical of her work.
"They thought I was a portrait photographer - maybe this isn't really what they were looking for. They were looking for photo journalism. And I said, 'go to my Instagram account,'" Hughes said.
The ensuing photo essay brought Hughes in contact with elders, researchers, students, administrators and health care professionals working to support the health and wellbeing of indigenous communities. All but two of the portrait subjects were based in Prince George and northern B.C. Caron worked closely with Hughes on the series, and is featured in one of the photographs.
"I was really appreciative that the people let me into their life and gave me such personal information and laid it out," Hughes said.
"That's something, I think, for the north to be proud of," Caron told The Citizen.
"I think that it's so wonderful that there's a magnifying glass on the various perspectives on this indigenous element," she said.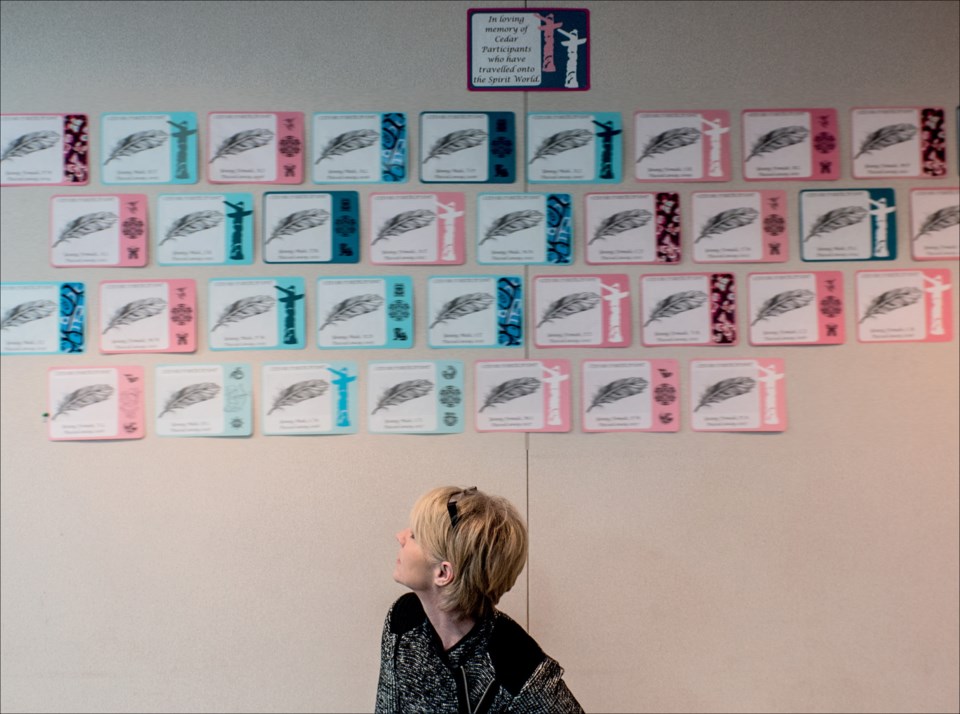 The series featured three images of staff of the Cedar Project, a community research organization based in Prince George and Vancouver, which works with indigenous youth impacted in a number of ways by inter-generational trauma.
Hughes spent a significant amount of time with staff, listening to stories of participants of the project.
"I just put that camera down and sat and listened to the stories. I just watched their body language, and the way they sat, what they referenced and just how they interacted with each other," she said.
One photo features an image of a staff member, Sharon Springer, looking up at a wall filled with 40 images of a feather. Hughes said the feathers each represented individuals under the age of 41 who had passed away. Only one had died of natural causes.
"So when Sharon looked up at the pictures, I just found it really poignant the way that she was looking up," she said.
Another photo featured a portrait of Earl Henderson, a respected Elder and an adjunct professor at UNBC.
"I have had a lot of interaction with the health-care system. Often they have trouble believing that someone who is so externally visibly Indigenous does not have a drug problem or is not homeless, despite the fact I have a Masters degree, have never done drugs, and own my own home," Henderson is quoted as saying in the essay.
Hughes said the series gave her an appreciation for the disparities in health for indigenous people in Canada. Throughout Canada, indigenous people have higher rates of infant mortality, tuberculosis, child and youth injuries, diabetes and exposure to environmental contaminants than non-indigenous people.
But, the experience also gave Hughes an appreciation of the role of traditional practices such as smudging in northern healthcare.
"There is an imbalance in service to people, to humans, who come at a time of need to the health system. They're coming for help. They're asking for western medicine, but there needs to be a balance with First Nations spiritual healing."
The series can be seen online on the Lancet's website.