It's not the Grouse Grind, but the plan is to make Prince George's iconic cutbanks gain that level of regional recognition and rally around it for a good cause.
With the sandy hillside in the distance, the inaugural Climb for Cancer was announced by Northern Lights Estate Winery on Tuesday with its partner the Canadian Cancer Society.
Winery owners Pat and Doug Bell said the now defunct Sandblast - the downhill summer sand ski event from a decade before - served as a bit of an inspiration.
Without the dangerous bits, that is.
"I was watching the video again last night of the couch tumbling down," recalled Pat Bell, with a laugh. "The cutbanks really is an iconic feature in Prince George. We've been looking for something that we could do with the cutbanks that would really put us back on the map here in Prince George."
Then, about a month and a half ago, the local chapter of the cancer society approached them.
"We just wanted an opportunity to bring (the cutbanks) back into focus and to utilize it to drive fundraising opportunities for great organizations like the Canadian Cancer Society," said Doug Bell, CEO of the winery. "It's an awesome opportunity for us to raise proceeds for such a worthy organization that's helping out so many people in our local area and in northern B.C."
The event is scheduled for April 23, to line up with the society's Daffodil campaign and all proceeds will go to the Kordyban Lodge.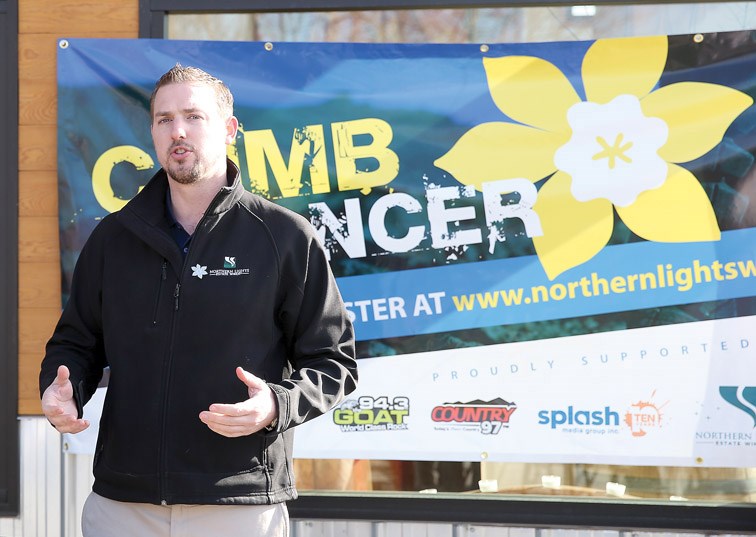 "We believe the Prince George cutbanks could be as representative of Prince George as the Grouse Grind is in Vancouver. When people think of Prince George and outdoor activities to do we would like them to remember the cutbanks are so close to town, and they're a great fitness opportunity, they're fun and there's no better place in Prince George to get a view of the city."
Daffodil campaign coordinator Jana Peters said the credit for the cutbanks idea goes to the Bells.
"We are thrilled to be partnering and being a part of this climb for cancer," said Peters. "I've grown up in Prince George and the cutbanks have always been such a huge part of Prince George. We think it's an event that many people can come and enjoy. It's a wonderful, wonderful cause."
More than 2,200 patients have stayed at the lodge in the last three years from all over the north. Most people hail from Bulkley-Nechako and Kitimat-Stikine areas, according to the lodge's numbers. It all adds up to more than 8,500 nights spent while receiving cancer treatment.
"You walk in there and it's such an amazing feeling. It's not hospital, it's not a hotel. It's something way way more," Peters said.
The winery is working on putting in more parking and securing more partners but Doug Bell praised Canfor and Vista Radio as key sponsors.
"It just shows the level of integration with the community that people have when you call them up," he said.
Gary Russell, Vista's regional manager said it feels like a full circle for the company. "We did start the Sandblast almost many, many years ago. We went through the trials and tribulations and I remember watching couches and bikes and people going down and walking up there. It is very nice to put something iconic… back into focus for the city and I think it's going to be a huge event."
The event will include music and food and entertainment, but there are a lot of pieces to still pull together said Doug.
"We're preparing our orchard. We're putting in additional parking we're also adding lots of vendors and sponsors. The biggest thing right now for us is getting people to sign up and register and start raising money for the event."
The goal for the first year is to raise $10,000, and participants and teams can register at www.northernlightswinery.ca.