The region's aboriginal people were named for their inland maritime circumstances. The Lheidli T'enneh people's cultural identity translates to "the people (T'enneh) where two rivers flow together (Lheidli)" and when your definitive geographic features are large rivers fed by many other tributaries, the canoe becomes your abiding tool.
In a land thick with spruce, pine, birch and quaking aspen - tall but not especially wide - it was the enourmous trunk of the cottonwood tree that made the most sense for building canoes. These trees also conveniently grow alongside the water.
In all likelihood, a canoe's form was never cut loose from the hulk of a cottonwood at the very spot Robert Frederick and Jennifer Annais Pighin are chipping away at one right now. They started on Canada Day on the outdoor gathering space in front of The Exploration Place. Although the Fraser River is within easy walking distance, theoretically, the logistics change when you add the weight of the wood. It was an enormous undertaking even with modern machinery to place the log at that site.
"This log weighed more than 10,000 pounds when it first arrived," said Exploration Place curator Alyssa Tobin.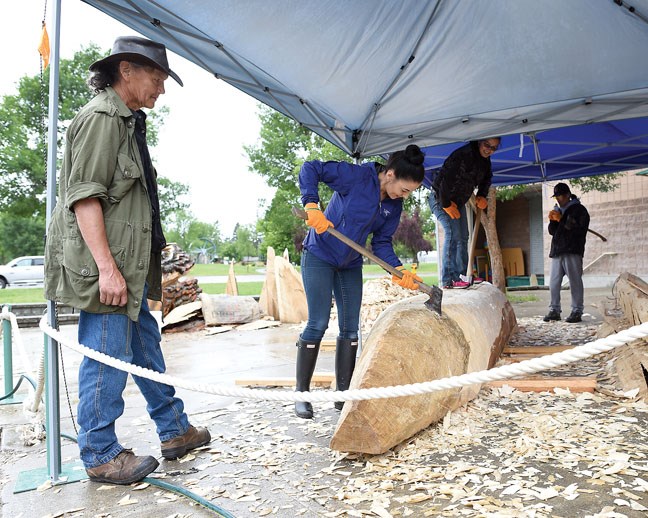 It weighs a lot less now, after a chainsaw was used to cut out the basic shape of the canoe, then the community effort with axes and adzes to whittle the hull. The chips have been flying daily since the exercise began under the guidance of elder Frederick who, in his younger days, remembered the boat-building efforts of the Lheidli T'enneh carvers before modern boats became too cheap and plentiful to make cottonwood work necessary.
This is not Frederick's first cottonwood canoe built in recent times. It is actually his fifth, and he does so to teach the skill. It even became a one-time experiential course offered through UNBC a few years ago.
That's when his wife Edie Frederick, one of the Lheidli T'enneh First Nation's official elder ambassadors, explained why it is so important to him.
"Robert grew up with the last generation of elders who made the canoes in the 1950s, and was able to learn from them, so he is an invaluable resource for Lheidli T'enneh in keeping our history and traditions alive," she said. "There are only a few people like my husband left, whose stories and traditions were passed down to him directly from the old elders, like his mother and father. Learning about the tools, art, history, and culture of the Lheidli T'enneh from the people who have an intimate knowledge is the best way of learning."
Tobin said that Exploration Place took special interest in sharing this tradition because their facility is located on the site of the ages-old Lheidli T'enneh village before they were evicted through what history now sees as a combination of dirty deals and violence in about 1913.
"We are going to do a lot more with Lheidli T'enneh artifacts and representing them here. We have some new, permanent features coming," Tobin said.
Museum CEO Tracy Calogheros said the expanded Lheidli T'enneh presence in their exhibit hall was going to be named Path Of The Paddle, which is where the dugout demonstration idea is rooted.
"The finished work will be accessioned into the museum's permanent collection," Calogheros said. "We only very rarely purchase items for our collection. This is an excellent opportunity for traditional teaching of cultural knowledge and the dugout will form a key component of our upcoming renovation to our First Nations Gallery in the Ted Williams History Hall."
The huge trunk of wood was sourced and transported by Fortwood Homes with help provided by Archer CRM. Frederick is the lead on this project, and Pighin his apprentice (it is her third cottonwood dugout canoe project), but anyone who wishes to help in the carving process can sign a waiver and join the work of building brand new ancient culture.