Guy Felicella doesn't remember going down.
But he remembers everything went dark on that 18th day of February in 2013.
He had just injected himself with drugs in a booth at the Insite supervised drug injection site on East Hastings Street.
"I remember waking up and seeing the nurse visibly emotional, telling me that I care about you Guy — and I burst into tears," Felicella recounted Thursday.
It was that overdose which inspired him to seek treatment and stop using drugs.
More than 10 years later, not only is Felicella sober but he's married with three children and has parlayed his once-tragic life into a career of educating people about drug use, harm reduction and treatment.
He told part of his story Thursday at Insite, where he spoke from a lectern adjacent to the booth where he suffered that life-changing overdose.
Felicella, who is now in his early 50s, joined a doctor, overdose emergency response director, lawyers and representatives of the PHS Community Services Society, which co-manages the facility with Vancouver Coastal Health, in celebrating Insite's 20th anniversary.
"The life that I have today would not exist, if this facility didn't exist," he said. "I can't stress how vital and important this is not only to myself, but to so many people who are on similar paths or similar journeys."
Added Felicella: "This facility not only saves lives, it builds a connection with a community — and that connection empowers people to change their own circumstances."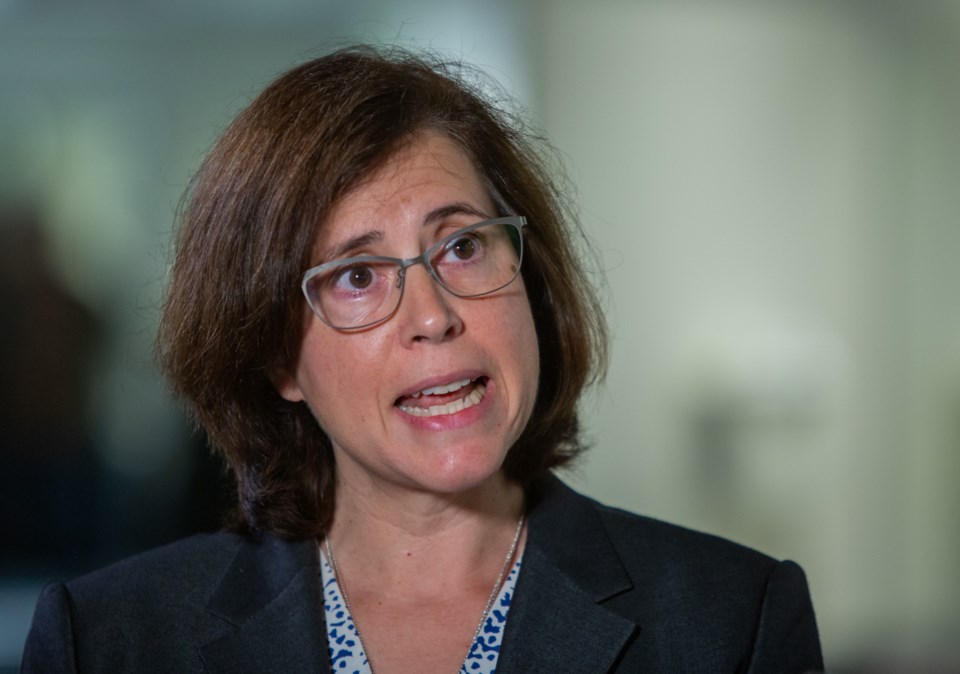 Supreme Court of Canada ruling
Insite opened Sept. 21, 2003 as a three-year experiment after operators secured a federal government exemption under the Controlled Drugs and Substances Act.
It became the first legal site of its kind in North America.
(The Dr. Peter Centre at Comox and Thurlow has operated a three-stall injection room since February 2002 for people with deteriorating health caused by AIDS. The centre opened the injection room, without an exemption from the federal government, after consulting with the College of Registered Nurses and the centre's lawyer. The centre later received an exemption in 2016.)
Insite's longevity is a remarkable feat considering efforts by then-prime minister Stephen Harper and his government to shut it down. Short extensions were granted but the Harper government made it clear in 2008 that Insite had to close.
A series of court battles in B.C. ensued followed by a Supreme Court of Canada ruling in 2011 that allowed Insite to operate indefinitely.
Lawyer Monique Pongracic-Speier, who worked with the late Joe Arvay on behalf of drug users in the case, recalled the morning the decision was delivered.
Pongracic-Speier had joined a crowd at Insite.
"It's a morning I'll never forget, as the Supreme Court of Canada unanimously decided that it was unconstitutional to end Insite's exemption," she said.
"One of the especially notable aspects of the result in the case was the remedy: the court didn't stop at saying this is unconstitutional. It went on to order the Minister of Health to grant the exemption. That's why Insite stayed open on Oct. 1, 2011, and that's arguably why we acknowledge Insite's 20th anniversary today."
Years later, not only does Insite continue to operate but there are almost 40 Health Canada-sanctioned sites across the country. Insite and three others operate in B.C.
That statistic is on top of the many community overdose prevention sites that operate in Canada, including approximately 40 in B.C. The Overdose Prevention Society's facility located a few doors from Insite is an example.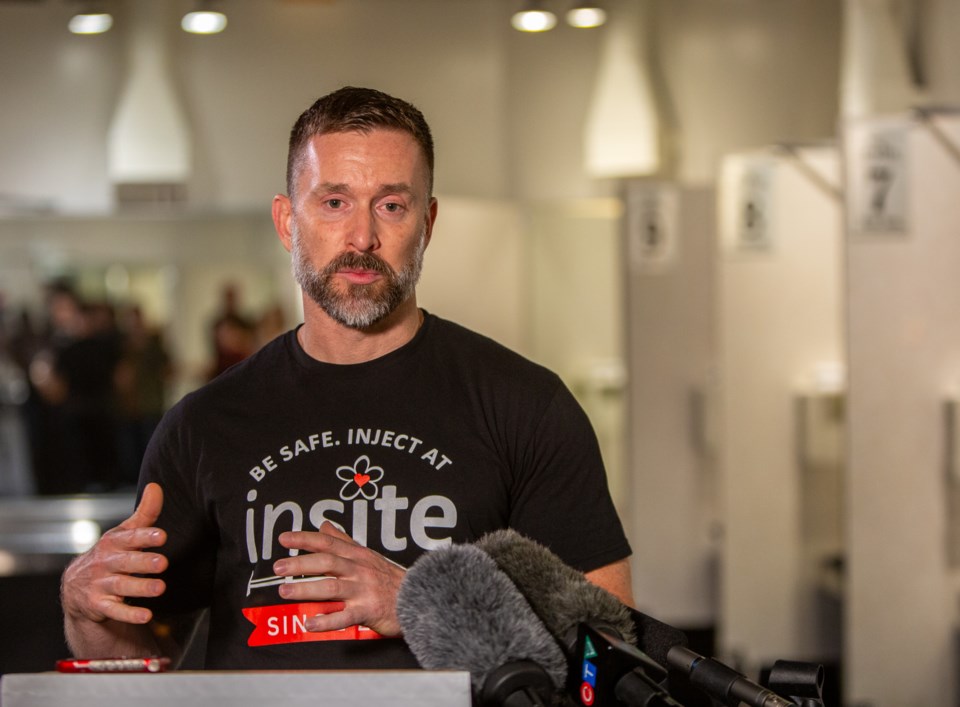 Fentanyl
Dr. Mark Lysyshyn, deputy chief medical health officer for Vancouver Coastal Health, noted Insite was also the first facility in Canada to offer drug-checking capabilities. Now, there are more than 40 drug-checking service locations in B.C., Lysyshyn said.
"Insite was important when it opened, it continues to be important in the current overdose crisis and I think it's going to continue to be a place where we innovate and we learn how to do new things," he said.
Insite's 20th anniversary comes as the overdose crisis continues unabated in B.C., the unprecedented number of deaths linked largely to fentanyl, which was detected in 2014 at Insite.
The most recent statistics from the BC Coroners Service showed the toxic drug crisis killed 12,739 people in British Columbia since a public health emergency was first declared in April 2016.
This year alone, between January and July, 1,455 people died of an overdose.
Drug inhalation sites
The emergence of fentanyl has also seen more drug users preferring to smoke the deadly synthetic narcotic than inject it, as Coroners Service data shows. That shift in method of drug use has increased the urgency for more inhalation sites for users.
"We're struggling in the community with where to offer those services," Lysyshyn said. "We've got some outdoor supervised inhalation sites, but they're difficult to establish in the kind of dense urban area where all of the spaces are claimed."
The other challenge, he said, is getting a safe supply of alternatives to street drugs in the hands of drug users. An experiment is currently operating at Insite, where Lysyshyn said the evidence so far is users are not overdosing on the prescribed medication.
"Supervised consumption sites are really going to play an important role in safe supply programs going forward, and it'll just enhance the services that can be offered," he said.
Since Insite's database was implemented in 2004, the total number of injection room visits has reached 2,924,473, according to data from Vancouver Coastal Health. Overdoses reversed totalled 11,856 and referrals to services provided off-site were recorded at 71,103.
No one has died in the injection room.
Detox, housing
The building in which Insite operates also offers a 12-bed detox area and an 18-bed transitional housing floor. The health authority says two or three people per day move into those programs.
Over the years, studies published in various medical journals including the Lancet and the New England Journal of Medicine concluded Insite saves lives and health-care dollars, reduces disease transmission and does not increase crime or perpetuate active drug use.
The site's success has attracted interest and visits from people across the globe, including U.S. police chiefs and mayors. Philadelphia Mayor Jim Kenney and that city's police commissioner visited in the summer of 2019.
Felicella, meanwhile, continues to work as a peer clinical advisor for Vancouver Coastal Health and the BC Centre on Substance Use and is booked to give talks internationally.
Insite recorded Felicella as using Insite more than 4,000 times in 10 years. On six occasions, he was brought back to life — a fact he shared via social media in 2020 after the birth of his third child.
His message on the social media platform X, formerly known as Twitter, accompanied a photograph of him with his wife and three children.
"I wouldn't be alive today without harm reduction and I wouldn't have the life I have today without my recovery," he wrote, adding the hashtag "we do recover."