It is a Christmas Eve that Deb Bailey will remember the rest of her life.
She spent it in the morgue, saying goodbye to her 21-year-old daughter Ola, who was found dead of a drug overdose in a Downtown Eastside single-room-occupancy hotel.
Ola, whose nickname was Izzy, died Dec. 22, 2015.
Bailey said her daughter used drugs that day with another person, who either left Ola in distress or dead in the hotel's stairwell. That same person took Ola's identification and Christmas gifts she had recently purchased.
Two days after Ola died, police pieced together who the young woman was and then broke the news to Bailey, who lives on the west side of the city.
"It was her fifth overdose, but this time there was nobody there to help her," said Bailey, noting a postmortem report on her daughter indicated cause of death was a mix of drugs, including fentanyl and heroin. "I mean, there's just nothing you can say — it's just awful."
Bailey shared her story Thursday outside Health Minister Adrian Dix's constituency office near the Joyce-Collingwood SkyTrain station. She joined about 30 moms, dads and others who have lost family and friends to the province's drug poisoning crisis.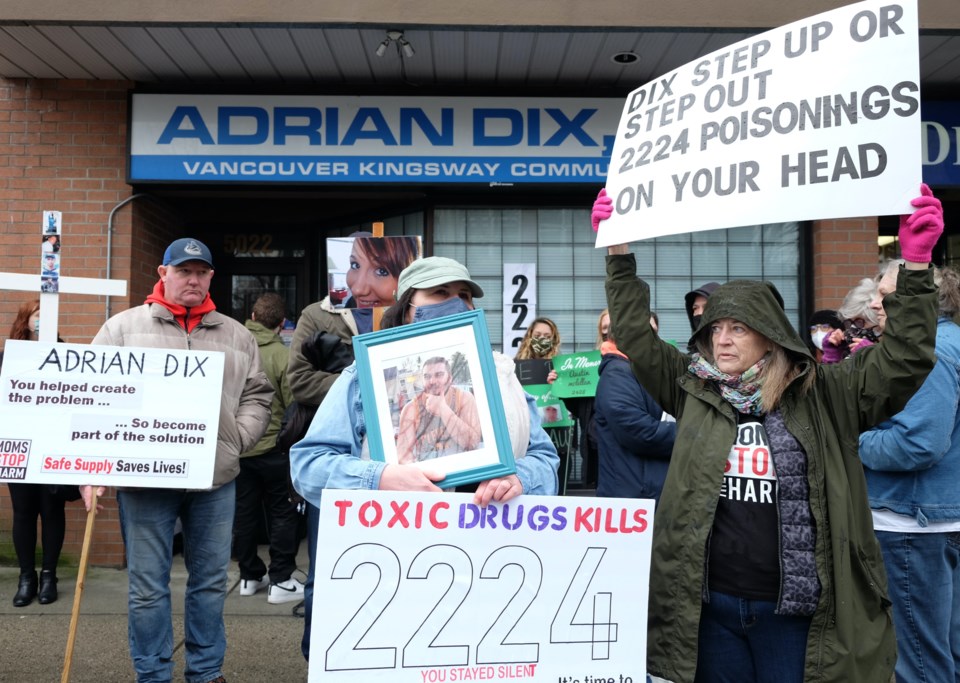 Organized by Moms Stop The Harm, the group carried signs and marched through the streets as some participants banged drums, including a woman who led the procession with an Indigenous song.
The protest occurred the day after the BC Coroners Service revealed that a record-breaking 2,224 people across the province died of a drug overdose in 2021.
In Vancouver, the death toll reached 524.
The statistics are preliminary, meaning the final number of deaths in B.C. will likely climb, despite senior governments saying for years they have committed resources and plans to help stop the harm, including medication-assisted treatment and drug injection sites.
"If what the government is doing is working, then why are the number of deaths so high?" said Bailey, who carried a photograph of Ola as she stood on the sidewalk outside Dix's office, which was closed.
Bailey and protest organizer Traci Letts acknowledged there is no one solution, but said it's imperative that a non-partisan committee of provincial politicians is created to take action on the crisis.
'Stepped back on their heels'
That action has to translate to a widespread safe supply of drugs, a significant ramping up of the number of health professionals able to prescribe medication-assisted treatment — particularly outside Metro Vancouver — and a more aggressive push to change the country's laws to allow decriminalization.
"We know that with COVID, what's been proven to us is that when it comes to a public health emergency, they can ramp up the action pretty darn good," said Letts, who has lost family and friends to overdose, and has a son who is a drug user.
"They can open the coffers, and they can start putting resources in place. But with [the overdose crisis], they've stepped back on their heels."
Dix was targeted Thursday because he is the province's health minister and has to stop deferring to B.C.'s Minister of Mental Health and Addictions Sheila Malcolmson, said Bailey and Letts, who suggested Malcolmson has no power, or significant budget to make change.
"She's a puppet for the government," Letts said.
"This has been a public health emergency since 2016. We've lost over 9,000 British Columbia residents and Dix is nowhere to be found. He doesn't talk about it. He doesn't address it."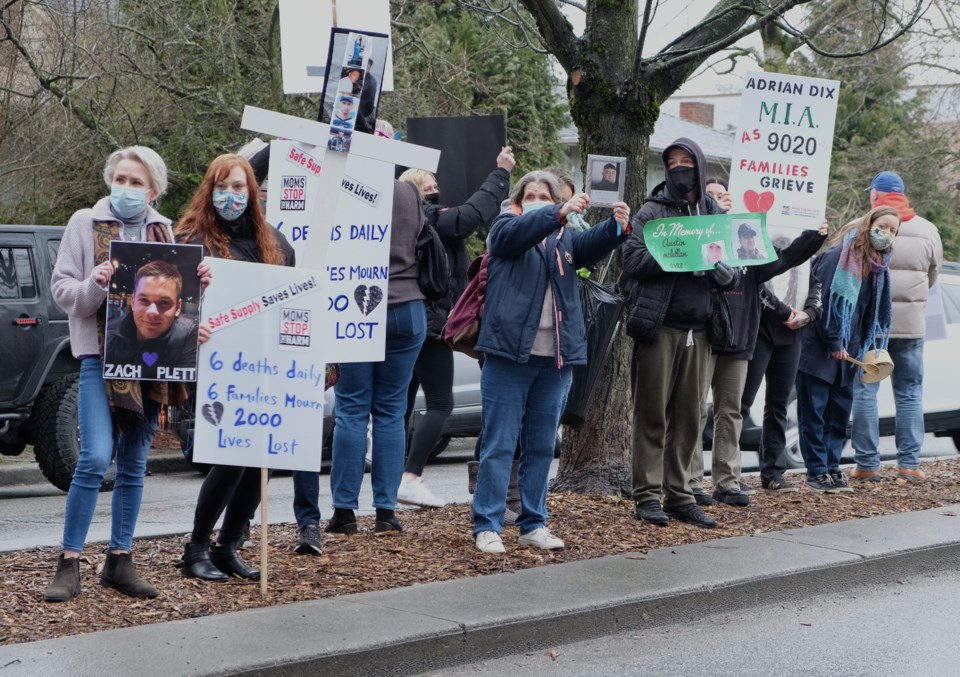 'It is time to take action'
The release Wednesday of the overdose death statistics was followed by a series of news releases from politicians and health professionals, with B.C.'s Chief Coroner Lisa Lapointe echoing the frustration of Bailey and Letts.
"We need decision-makers at all levels to recognize and respond to this public health emergency with the level of urgency it demands," Lapointe said.
"The reality is this: every day we wait to act, six more people will die. COVID-19 has shown what is possible when governments act decisively to save lives."
Added Lapointe: "And in order to save lives in this public health emergency, we need to provide people with access to the substances they need, where and when they need them. Time has run out for research and discussion. It is time to take action."
Malcolmson and Provincial Health Officer Dr. Bonnie Henry released a joint statement, acknowledging the devastation and saying "no words can soften the losses."
Malcolmson and Henry reiterated their long-standing positions that safe supply is crucial to reducing deaths.
"We know one of the most important ways to keep people alive in this crisis is to ensure a safer supply to replace toxic illicit drugs and the expansion of this life-saving program is now underway across our province," they said.
"Addressing this challenge requires our health care system and partners to work together. That's why the province is working closely with the BC Centre on Substance Use, Doctors of B.C. and Nurses and Nurse Practitioners of BC to also make sure prescribers have the support they need to confidently connect their patients with a safer supply."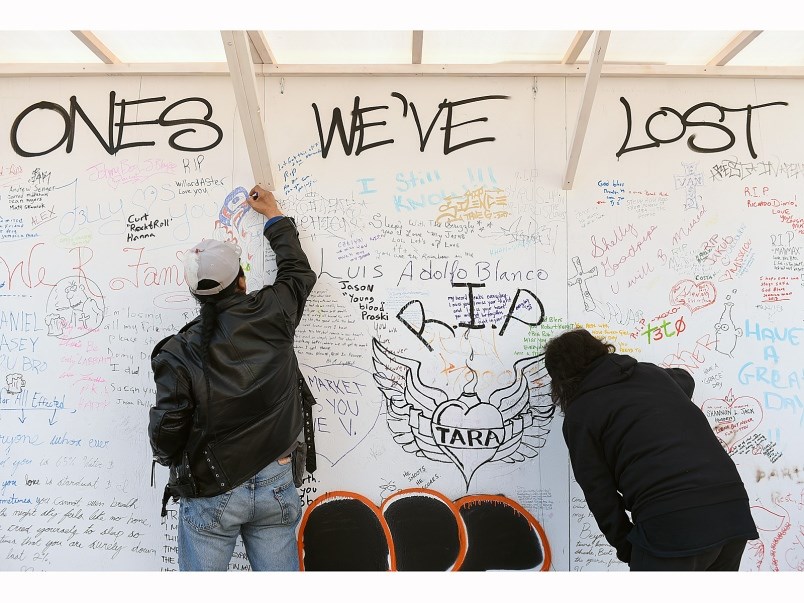 Meanwhile, drug activists aren't waiting for more widespread supply, and going to the dark web to access "safe" heroin and other drugs to distribute to users, as they did Wednesday in Vancouver.
"We have a message for the government of BC: the coroner's body count is your report card and you get an F," said Garth Mullins, a board member of BC Association of People on Opioid Maintenance and host of Crackdown Podcast, in a news release.
"We have lost confidence in you to deliver us from this apocalypse. So we are looking to our own ranks of activists for safe supply. We are breaking the law to try to keep each other safe."
Mayor Kennedy Stewart, who has pushed for safe supply and decriminalization, called on senior governments "to take ownership of this issue" and to stop offloading their responsibility to municipalities.
The mayor wants governments to immediately set metrics and targets to reduce deaths from poisoned drugs and produce a public timeline and road map to show how they are going to meet these targets.
"We need a clear plan of action to save lives, otherwise these unacceptable deaths will continue," said Stewart, who has lost a family member to overdose.
'It's horrible to lose your kid'
For Bailey, more action can't come soon enough.
"I say to people all the time that if my daughter had come to me and said, 'Hey mom, I'm going on a safe supply of heroin,' I would not have been thrilled," she said.
"But I would have been so relieved because at least then I know she'll stay alive, and there's always hope that maybe she'll become stabilized and look forward to treatment, which she did want to do."
At one time, Ola was prescribed Suboxone, but it was difficult to get carry-home doses.
"My daughter wanted to get out many times, tried many times, and was just stuck," said Bailey, who described drug addiction as "a medical condition with biological, psychological and social issues all combined."
Ola, she said, was not unlike many driven kids growing up — she was a warrant officer in cadets, she could play the bagpipes, loved horseback riding and was accomplished in martial arts.
"And she was an awesome ice hockey goalie," Bailey said. "She told me once: hockey is my life, mom."
What troubles Bailey is the determination Ola had to accomplish so much at a young age didn't translate to stopping her drug use, which began about five years before she died after falling in with the wrong crowd.
Bailey described her daughter as vulnerable and easily influenced.
"It's horrible to lose your kid," she said. "I mean, I'll never be better. I'm just different."
@Howellings