Prince George has made the list of the most bed-bug infested cities in Canada.
Pest control company Orkin Canada has released its 2022 list of the top bed buggiest cities in Canada and Prince George came in at 22 out of 25.
The only other B.C. city to make the list was Vancouver at number 2.
The company's findings are based on the number of commercial and residential bed bug treatments carried out by the company in 2022 (Jan. 1, 2022, to Dec. 31, 2022).
Toronto claimed the top "honour" on this year's list and Ontario continued to dominate the top five most-infested cities, with Oshawa and Ottawa placing fourth and fifth.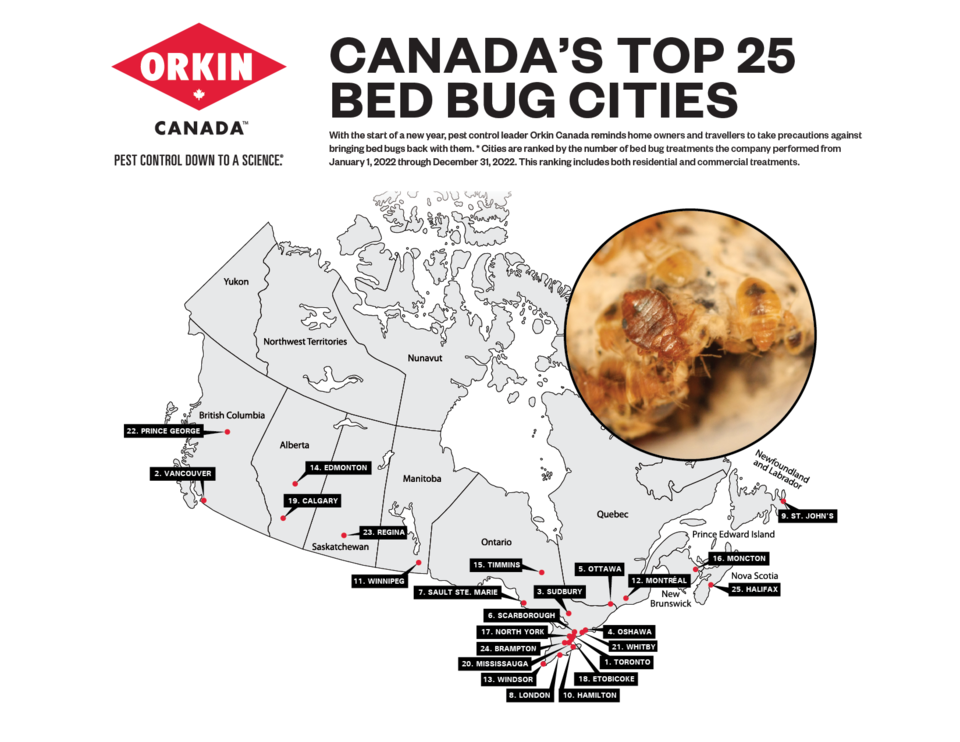 The top 10 bed buggiest cities in Canada in 2022 are:
Toronto
Vancouver
Sudbury
Oshawa
Ottawa
Scarborough
Sault Ste. Marie
London
St. John's
Hamilton
Bed Bugs are primarily nocturnal bugs, hiding in the daytime and coming out to feed at nighttime when people are asleep while remaining unnoticed. Physical signs of bed bugs include bite marks on legs, arms, neck, or face that are swollen or itchy.
"Contrary to popular belief, bed bugs are visible to the naked eye, but are excellent at hiding. Involving a trained professional to identify bed bugs that have been introduced or are in the early stages of an infestation is recommended," said Alice Sinia, entomologist at Orkin Canada, in a release.
"Bed bugs are extremely resilient, making them difficult to control. As people begin to ramp up their travel plans this year, it's important they know how to protect themselves through pest identification and proper control."
Orkin says the pesky critters may find themselves new homes over the winter season. Unfortunately, bed bugs are adept hitchhikers and they can thrive in either clean or dirty homes.
Since bed bugs are talented home-hoppers, early detection is the best way to reduce the chances of an infestation.
- with files from Elana Shepert, Vancouver is Awesome