Paul Austin and Summer Bifano and their four children fled Williams Lake the day after lightning started fires across the Cariboo.
They didn't wait for the evacuation order that would come a week later, concerned that the thick smoke was not good for their children Tiava, 17, Jennelle, 15, Joshua, 11, and William, 9.
"The smoke was just too bad," said Austin, noting that one of the boys developed a nosebleed.
On July 8, they headed three hours north in a truck and SUV, with as much as they could carry, to the emergency operations centre here at the College of New Caledonia, just off Highway 97.
They are now among more than 9,300 evacuees registered in Prince George, part of an unprecedented dislocation of more than 45,000 people in the Cariboo after large fires swept the tinder-dry region, resulting in numerous evacuation orders, including in 100 Mile House, McLeese Lake and other smaller rural communities, and, the largest, Williams Lake.
Early this week, a friend dropped off a travel trailer, which has helped ease their sleeping situation. The fridge in the trailer has also helped, as they had been relying on coolers to store food.
Like many of the evacuees that have registered in this city of 85,000, which dubs itself B.C.'s northern capital, they marvel at the enormous amount of help evacuees have received from emergency organizers, volunteers and city residents.
"It's been unbelievable," Austin said
At last count, more than 1,500 volunteers had registered to help out here, but the number of people offering help is certainly greater than that.
There are about 700 evacuees staying in gyms at the college and the University of Northern B.C., there are an estimated 1,000 people in recreation vehicles and 750 in motels and hotels. The rest have found places in private homes -- those of family, friends and even total strangers.
A similar story is playing out in Kamloops, more than 300 kilometres southwest of Williams Lake by road, which has taken in thousands of other evacuees from the Cariboo.
There, 300 to 400 volunteers are helping out each day and residents are also offering their homes to evacuees.
Other evacuees are staying in places such as Quesnel, 141 kilometres north of Williams Lake by road, or hundreds of kilometres farther away, such as Fraser Lake, to the northwest, or even south in Chilliwack and Surrey.
Austin, Bifano and their four children spent the first week in a tent.
By early this week, at Austin and Bifano's camping spot on the grass beside the college parking lot, local residents in this community had dropped off books and games for their children, a folding table and chairs, a net tent big enough for the table and chairs to keep out bugs and provide shade, a standing outdoor gas heater and a gas camping stove.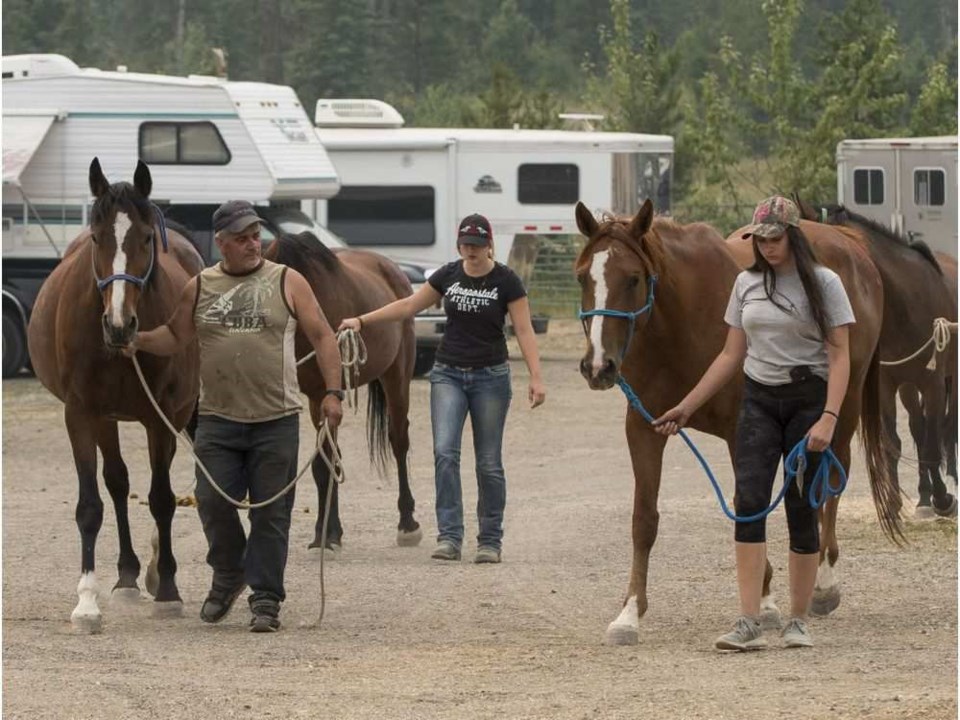 Volunteers tend to evacuated horses boarded at the Exhibition Grounds in Prince George.  Vancouver Sun photo by Richard Lam
Another resident had dropped off an enclosure for their two small dogs -- Sophie and Rylee. Their cats, hamsters and a bearded dragon lizard were boarded elsewhere.
Austin said city residents have also driven into the parking lot at the college -- where many people are camped out in trailers or tents lined along the grassy areas -- to offer evacuees homemade stew, chili with buns and salad, and store-bought pizzas.
One day a woman came by offering to take dirty laundry, clean it at her home and return it.
Mayor Lyn Hall, who has come to see how people are doing at the college, had stopped in at the couple's spot, to make sure they had everything they needed, said Bifano.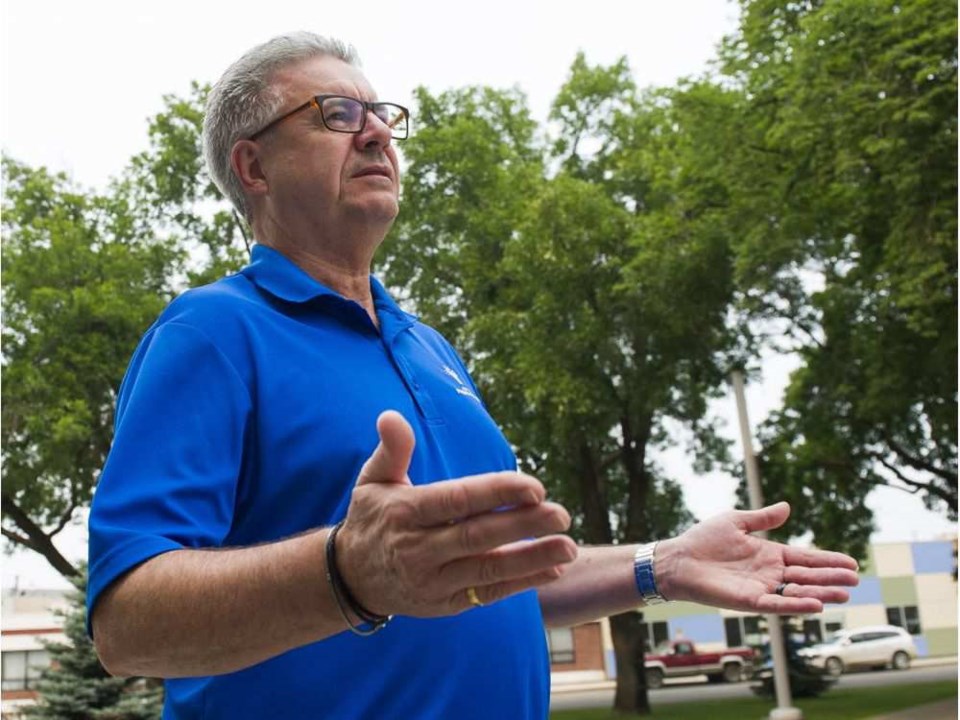 Prince George Mayor Lyn Hall is proud of how his city has taken on the challenge of caring for a 'small city' of evacuees. Vancouver Sun photo by Richard Lam
Said Hall in an interview: "The people in this city just respond to whatever crisis or whatever great moment is happening. ... I think it's the makeup and the fabric of the community that drives the want and the need for people to come out and help."
What has happened here from an operational point of view, he said, is that another small city has been created, now supplying the services people were getting in their hometown. The city's population has, in effect, jumped 10 per cent.
By mid-week, $1 million in grocery vouchers had been provided through the city's emergency centre, the funding provided by Emergency Management B.C.
Laundry services are also being provided.
Hall hosted a meeting Wednesday at the university -- it was live-streamed on the internet -- to provide wildfire updates and also to answer questions from evacuees.
In an interview, Hall said the city of Prince George is already thinking about what might happen were evacuees to still be here in mid-August, when the college and university need to gear up to take students. The city needs to be prepared to house people elsewhere, possibly in the city's civic centre or minor hockey arenas.
"We are cognizant we may need to make some changes."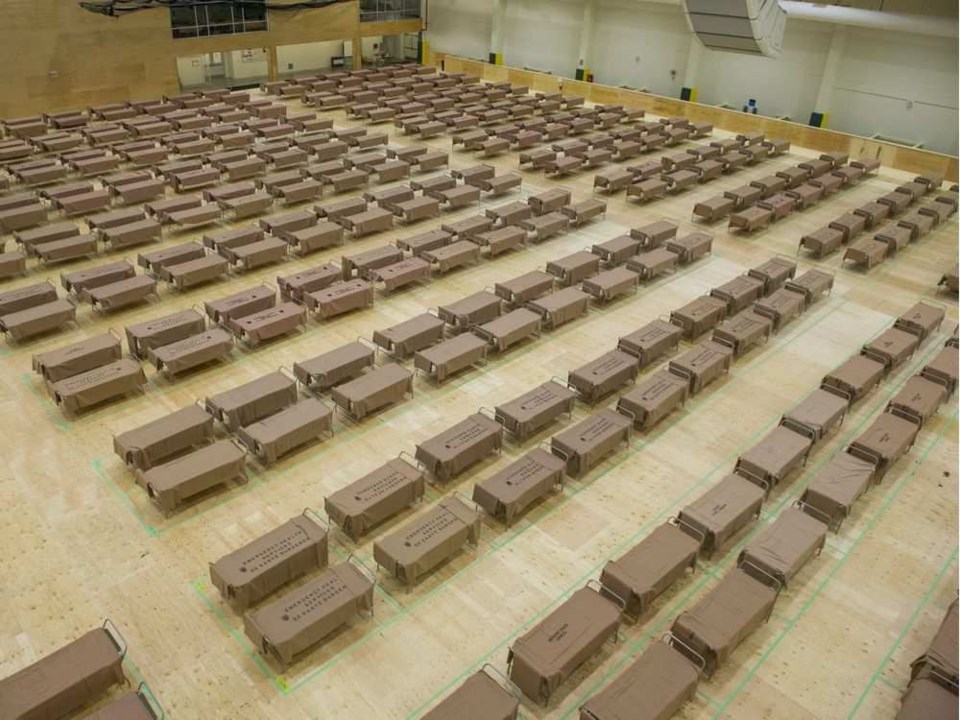 Cots are set up in the converted field house at the University of Northern B.C. in Prince George, in case there is another flood of evacuees from B.C.'s wildfires. Vancouver Sun photo by Richard Lam
LONGING FOR HOME
Notwithstanding all the welcome assistance, Austin and Bifano wonder, as do thousands of others, when they will be able to go home.
Residents of Cache Creek were able to return to their community on Tuesday after 11 days, but Austin, Bifano and others in Prince George are bracing for a longer stay, perhaps to the end of this month.
There are several large fires still burning in the Williams Lake area, some close to the city.
And there are a number of highway closures in the Williams Lake area. Highway 97 remains closed to southbound traffic south of McLeese Lake, and northbound from 100 Mile House.
It is also early in the fire season, which doesn't normally peak until August.
On Wednesday, Premier John Horgan extended the provincial state of emergency because of the wildfires for another two weeks and raised aid payments for those forced to flee their homes.
The waiting and uncertainty is hard on the evacuees.
For the children, said Bifano, it started out as kind of an adventure, a camping trip, but the novelty is wearing off fast.
Top of mind for her: a shower in her own bathroom and to be able to sit and relax in her own house, she said.
While they are secure on their grassy corner in the college parking lot, Bifano noted it is noisy into the evening from traffic and the trades training centre just across the road.
"We just want to get back home," she said.
Down at the other end of the college parking lot, John and Ruth Shaw have set up their trailer.
They have four young children they are fostering, who pass the time playing in the sunshine, marking up the pavement with coloured chalk.
The children - Damien, Roman, Domica and Taya - are doing fine now, but they were pretty upset during the first couple of days, said John.
With a child's logic, Roman asked what school he would be going to since they had "moved" to Prince George, noted Shaw.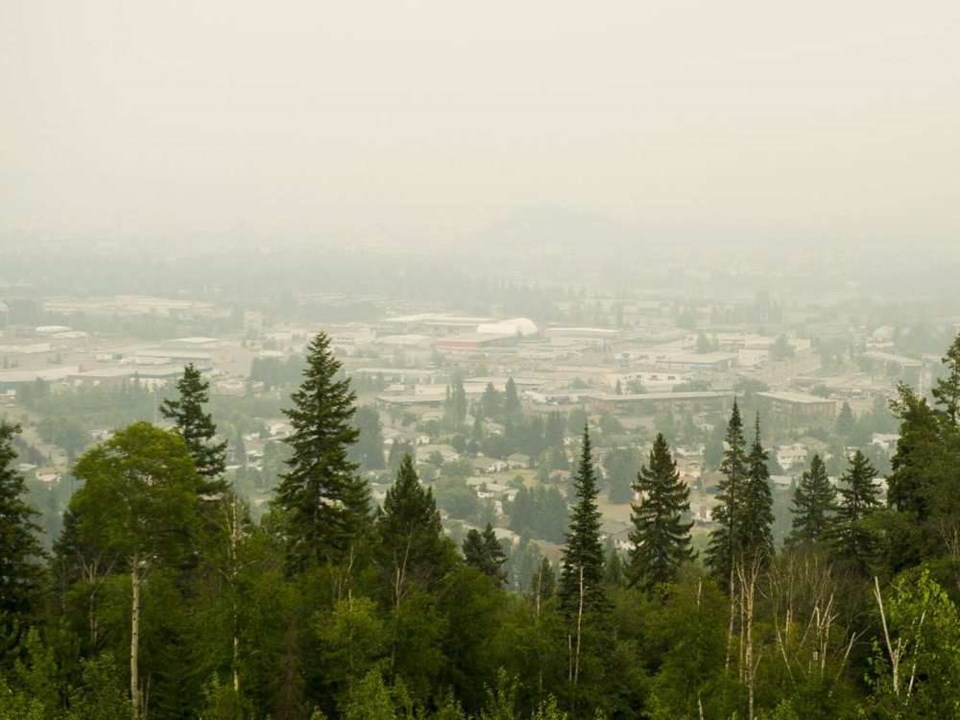 Smoke from the wildfires burning in the area drifts across the centre of Prince George, obscuring the view from the University of Northern B.C. Vancouver Sun photo by Richard Lam
The family left before the evacuation order in Williams Lake, on July 11, because of the smoke and because John did not want to be caught in a sudden evacuation from their rural property south of the city if there was a mad rush to leave.
John is recovering from back surgery two weeks ago and is in some pain -- he was not supposed to drive for six weeks -- but believed it made sense to go sooner rather than later to avoid an arduous journey on clogged roads.
He, like Austin and Bifano, does not believe they will be leaving soon. "I think it's going to be quite a while," said John. "They'll want to be careful of the possibility of any flare-ups."
His older daughter Renee and her husband Jay stayed in Williams Lake until the evacuation order. They hauled out a horse trailer with John's six dogs when they had to evacuate.
Still left behind on their acreage are 20 horses, and pigs, goats, chicken and cats, which were all turned loose. The Shaws live near a lake and there is a large field being irrigated nearby, so there would be a place of sanctuary for the animals. But the animals' well-being remains a worry, as does the chance of looting, said John.
At least two Williams Lake residents have been charged with looting.
John believes his house is still intact, but this week the Cariboo Regional District confirmed 41 homes had been lost in the wildfires.
It's this kind of anxiety that highlights the stress with which the thousands of evacuees must contend.
"If it's going to hit you, it's going to hit you all at once," said John, referring to the coincidence of the fires with his back surgery.
Emergency relief organizers know how stressful the situation can be and are providing medical and health services at the college.
As well, an elder of the Lheidli T'enneh First Nation, Darlene McIntosh, has been carrying out a smudge ceremony in the main courtyard each morning. The peaceful ceremony includes drumming and singing in a circle and the burning of sage that is wafted over each person with an eagle feather.
McIntosh, who works at the college and returned from her vacation to conduct the smudges, has been getting help from people such as Ralph Phillips, an elder from the Soda Creek First Nation, and Wilfred Hurst, an elder from the Toosey Indian Band, both near Williams Lake, and both evacuated because of the wildfires.
"You bring people together so that we can support community," said McIntosh, who is also hosting a 77-year-old woman from Williams Lake whom she had never met, along with her dog.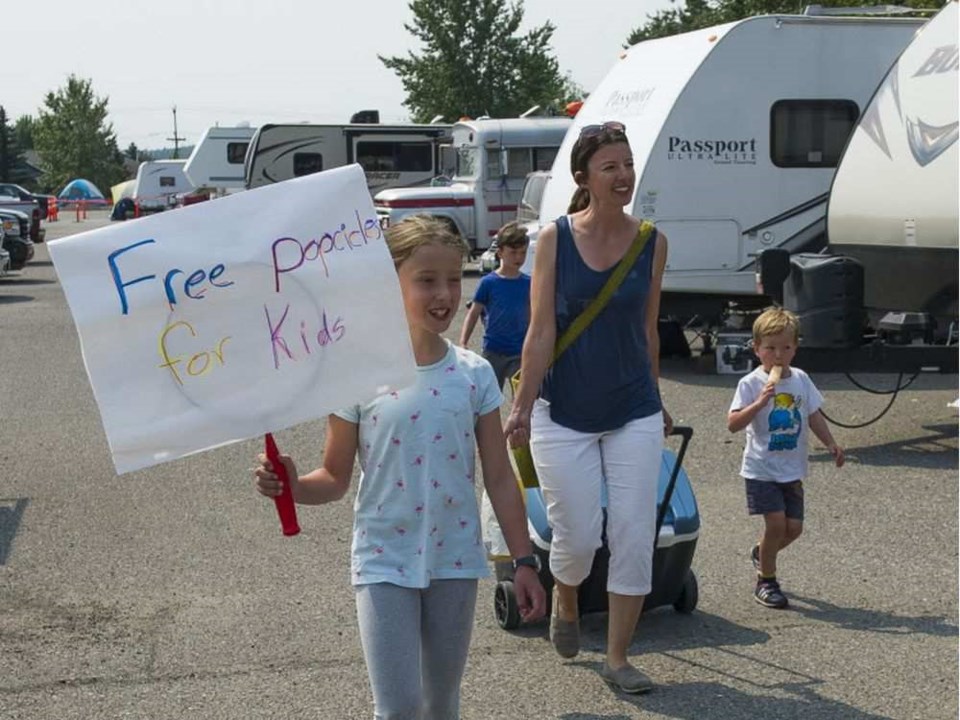 Izzy Naphtali holds a sign offering free popsicles for children while her mom Katie and Owen pulls the cooler in the parking lot at the College of New Caledonia . It was Izzy's idea to help bring treats for children and who had to evacuated from their homes. Vancouver Sun photo by Richard Lam
City residents are finding other ways to help.
Katie Naphtali had read the stories about the fires and evacuees, but it's another thing to see for yourself the evacuees packed together at the college, she said.
At the urging of her daughter Izzi, 10, the family decided to do something.
Naphtali loaded up a cooler with freeze pops, and also bought dog treats.
On one morning this week, she and her children, also including Ollie, 8, and Owen, 4, delivered them to evacuees.
Izzi carried a sign explaining that the treats were for children and dogs.
Naphtali said her family lost a home to fire in the late 1980s and so she well knew the effects and emotions brought on by such a loss. "We had to do something," she said.
ORGANIZATIONAL HEADACHES
Earlier this week, Darrell Peck was leaning on his truck, which is parked at the college although he and his partner Sheila Langley are staying at a cousin's cabin at Fraser lake, 158 kilometres to the west on Highway 16.
He had come to the emergency centre to re-register as an evacuee in order to be eligible for grocery vouchers and other services. It's one of the headaches organizers are trying to straighten out. Initially, people had to sign in every three days, but that period is being changed to 14 days.
Peck, who works at Gibraltar Mines just north of Williams Lake, which was shut down because the fire blocked the road to the mine, was taking the situation in stride.
He was more concerned that his thick-furred dog Radar, part Alaskan malamute and Karelian bear dog, might overheat than about having to sign up again or the wait that might entail.
He said a woman had offered to watch Radar while he went to sign up again. "It was nice, but I told her I was fine," he said.
He was also taking in stride the prospect of the Gibraltar gold and copper mine being shut down for some time (in fact, the mine would reopened a four-day shutdown).
Lack of employment and the paycheque that comes with it is another issue that evacuees must confront.
The Mount Polley gold and copper mine, a major employer in the Cariboo, was also shut down because of road closures and the evacuation of Williams Lake.
West Fraser, another major employer, indefinitely shut down its sawmills in Williams Lake, 100 Mile House and Chasm.
Tolko's two mills in Williams Lake are also shuttered. Both forestry operations are shut down because of the wildfire threat, road closures and community evacuations.
Austin, who is camped at the college with Bifano and their four children, considers himself one of the lucky ones.
He drives wood chip and logging trucks, and he was set this week to take over for a vacationing employee, based in Prince George, who hauls chips to Canfor's pulp mills. "It helps," he said.
Still, said Austin, it's likely that even if the fire situation cools, sawmills may not be back in operation until September or October.
The mine and mill closures are a examples of how, even with the extraordinary outpouring of support and help for evacuees, there remains a harsh reality to the displacement of this many B.C. residents: a big hit to personal household incomes and the provincial economy.
Also, there is the cost of the continuing assistance -- both social and financial -- that evacuees may need once they return home, particularly if they have lost homes to the fire.
University of Northern B.C. geographer Greg Halseth said a displacement of people of this magnitude had never been experienced in British Columbia.
And while there is a positive side to the crisis, where communities are rediscovering their heroes, and where people have been inviting strangers into their homes or inviting them to park their recreation vehicles in their yards, there is little doubt it creates anxiety and stress, said Halseth.
And that stress can linger, he said, likening it to post-traumatic stress syndrome.
It is why it is important that the support effort is not stopped too early, immediately after people return to their homes, said Halseth, a professor at the university and a Canada research chair in rural and small town studies.
"We have to make sure we resettle people properly after the stress, and we are there for a long time to help them," said Halseth.
"And also we have to follow through on the economic supports to people directly and indirectly impacted."