Did someone say day trip? Prince George has a lot of great things to offer, and that includes the abundance of lakes in and around B.C.'s northern capital.
With our short summers, it is essential to get the most out of good weather while it lasts, so we've created a list of the best Prince George area lakes to check out before fall is back on our doorsteps.
Without further adieu here are nine great spots to check out near Prince George:
Purden Lake has something for everyone. It's a great place for swimming, relaxing on the beach, picnicking and BBQing. There's even an adjacent dog beach so our furry friends can enjoy some much needed lake time. It's only about 45 minutes east of Prince George and is a must for summer lake visits. The beautiful mountain views are also a bonus.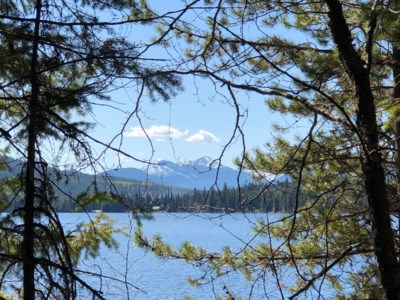 West Lake is a day-use park where people can relax, swim, go fishing or boating. It's got picnic tables and fire pits and there are even a volleyball net and horseshoe pit in the main day use area. West Lake Provincial Park is located 22 km southwest of Prince George on the Blackwater Road on the north shore of West Lake. Spend the whole day there, or just the afternoon either or it's definitely a great place to enjoy the summer.
Shane Lake is located in Forests For the World, which is a 106-hectare demonstration forest with 15 kilometres of hiking trails located in the heart of Prince George. Not only is Forests For the World a great place to hike, but you can fish in the lake for trout. There's also picnic tables, a picnic shelter, a BBQ pit, fire pits, toilets, a viewing platform and two fishing docks. Located right on Cranbrook Hill only minutes from downtown Shane Lake is an easy addition to your summer bucket list.
Ferguson Lake Nature Reserve is located in the Hart off Highway 97 North and Kelly Road North. The Nature Reserve's unique trail system is suspended on a plank walkway over the lake, which gives visitors a chance to observe plant an aquatic life up close. It features a fishing dock and canoe launch, rustic lakeside trails and boardwalks, picnic space and an old homestead site.
Summit Lake is the gorgeous body of water you can see so clearly from the top of the popular Teapot Mountain. There's also Summit Lake Resort which offers a boat launch, docks and an RV site where you can enjoy swimming, picnics, water sports and fishing on the lake. Whether you want to hike Teapot Mountain and take in the lake from above or jump in the water yourself, Summit Lake has a lot to offer. It's only about 40 minutes north of Prince George, on Highway 97.
Bear Lake is another great getaway not too far from the city. Highlights include sunbathing on sandy beaches, swimming in the lake (but motorized boats are prohibited), fishing and hiking. You can also check out Livingston Springs which are nearby. It's approximately a 7 km round trip from the trailhead to the springs.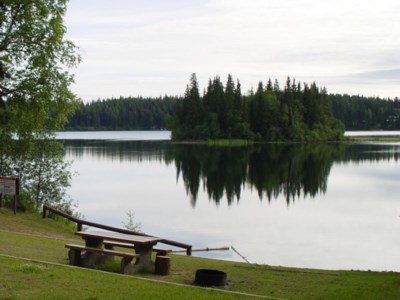 Ness Lake Regional Park is located just 35 km northwest of Prince George via Highway 97 and Chief Lake Road. The park has 1.2 km of trails within its boundaries which provide an easy walk to view all of the wildlife and plant life of the park.
There's also a beach on the lake where you can launch a canoe or go swimming. Facilities include picnic tables, fire pits, toilets, change houses and a beach with a designated swimming area.
Norman Lake is a quiet lake located in the Dahl Lake Provincial Park. It is a day-use park providing a wilderness atmosphere within an hours drive of Prince George.
The park has rustic picnic facilities, a sandy beach, a short walking trail, and great canoeing and wildlife viewing opportunities. It's definitely a great choice for a lake day.
Berman Lake Regional Park is located 45 km west of Prince George via Highway 16 and Norman Lake Road. The park has 3 km of trails and many of the trails follow the shoreline and naturally formed eskers, which enable access to view a variety of wildlife.
It also has two separate picnic areas. One is a small treed area with a dock where you can easily launch your canoe and do some exploring around the lake. The second is a large open area of lawn with a sandy beach with a designated swim area. There's also picnic tables, fire pits, toilets and a change house.
With Information from the Regional District of Fraser Fort George and Tourism Prince George