The heat wave enveloping much of B.C. has prompted Environment Canada to issue its first heat warning of the year as temperatures — currently doubling seasonal averages — are expected to persist over the province's North Coast this week.
Early Monday, the department's meteorologists warned a plume of hot air will remain over the area for the next four days, bringing daytime highs near 30 degrees Celsius in places like Kitimat and Terrace. That's 10 to 15 C above seasonal average.
"The risks are greater for young children, pregnant women, older adults, people with chronic illnesses and people working or exercising outdoors," noted the warning.
As part of Environment Canada's three-tiered extreme weather alert system, heat warnings are now synchronized as the second of a three-step BC Heat Alert and Response System (HARS).
Heat warnings are issued during "very hot weather," when daytime highs and overnight lows hit regional thresholds for at least two days. In B.C.'s northwest region, those limits are a daytime high of 28 C and a nighttime low of 13 C, both of which are forecast to be exceeded throughout this week.
Such warnings occur on average three times every summer, and are expected to lead to small increases in emergency room visits, hospitalizations and excess deaths, according to the BC Centre for Disease Control.
Special weather statements continue to cover most of B.C.
Elsewhere in B.C., special weather statements covering much of the province remained in place as of Monday morning as daytime highs and nighttime lows more than doubled seasonal averages in many places. They covered an area stretching from the Canada-U.S. border in B.C.'s south to the Yukon border in the north, and included the province's South Coast and much of Vancouver Island.
A special weather statement is one step below a heat warning and is often issued to alert people to early season high temperatures, which can shock the human body in ways not seen later in the summer when people have had time to acclimatize.
In B.C.'s central and southern Interior, daytime highs were expected to climb into the mid-30s, while in the north, Environment Canada said temperatures are expected to climb into the mid to high 20s.
"With elevated temperatures, the risk of heat related illnesses will increase," the special weather statement said.
Temperatures are not expected to climb to that seen during the 2021 North American heat wave, which is thought to have killed close to 800 people in B.C. alone.
If such an event were to occur again, it would likely lead an extreme heat emergency. The BC HARS third tier warning, an extreme heat emergency is only issued when temperature thresholds are met and are expected to significantly increase every day for at least three days straight.
Because an extreme heat emergency is expected to hit a large part of the province and lead to large increases in emergency room visits, hospitalizations and deaths, officials may broadcast a warning through the national text alert readiness system, radio and television.
Such an event is only expected once or twice a decade, though those estimates are expected to climb past 2050 as human-caused climate change makes extreme weather more common and more intense.
Temperatures could drive more flooding
In much of the province, the latest strong ridge of high pressure has driven pushed freezing levels to remain at 4,000 metres this week. Environment Canada warns a melting snowpack could lead to local flooding and high stream flow levels.
Floodwaters are already threatening several B.C. communities. On May 9, flooding in the Cache Creek area led authorities to issue several evacuation orders for areas near the Bonaparte River that have yet to be rescinded.
"YOU MUST LEAVE THE AREA IMMEDIATELY," noted the orders.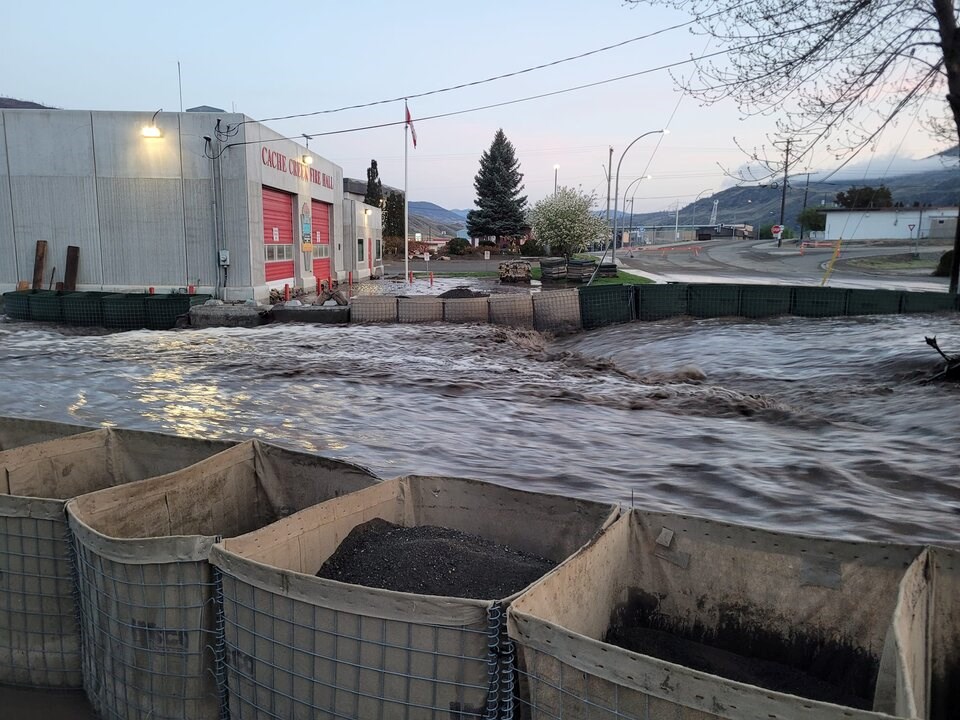 On Sunday, a damaged watermain prompted the village to issue a community-wide boil water advisory and Stage 4 watering restrictions. At the time, village officials said highways through the area were open to single-lane alternating traffic.
Parts of the South Thompson remained under a flood watch warning Monday as river levels approached their banks.
A high streamflow advisory — issued when river levels are expected to rise rapidly but no imminent flooding is expected — covered a vast area of the province, from the Kootenays and southern Interior, to the Upper Columbia, North Thompson, Upper Fraser, Peace and Skeena regions, among others.