A Vancouver city councillor convinced his colleagues Wednesday to increase the short-term rental licence fee from the current $109 per year to $1,000 for 2024.
Lenny Zhou, who has taken an interest this year in rooting out illegal short-term rentals, described the action as bold and recommended the new revenue be dedicated to hiring more enforcement staff.
"In the past few months, I've been very deeply concerned about the illegal short-term rentals throughout the city," Zhou said. "I strongly believe raising fees must go hand-in-hand with stronger enforcement. Otherwise, we risk encouraging more unregulated operators."
Council was considering a report Wednesday from staff that recommended the short-term rental fee be raised to $450 per year in 2024. Zhou argued the increase wasn't enough, although he said during debate the $1,000 was an arbitrary number.
He estimated the increase would generate $2.7 million.
The first-term councillor emphasized that the spike in the fee wasn't to dissuade property owners from legally renting their properties on a short term, noting how the income can help pay down a person's mortgage.
"It is only $550 more than what staff recommended," Zhou said. "You can make that money in a maximum of two days. So I don't think it would hurt the legal market."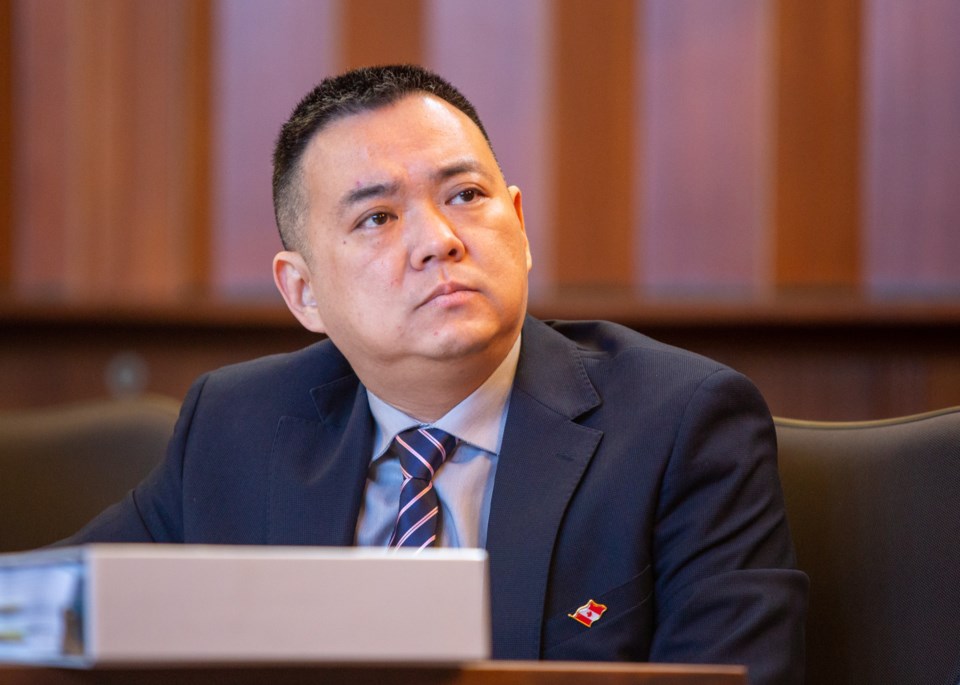 Kelowna, Squamish, Nelson higher fees
ABC Coun. Peter Meiszner pointed out that Vancouver currently has one of the lowest short-term rental licence fees in B.C. Kelowna charges $345, Squamish $500 and Nelson ranges from $200 to $800, Meiszner said.
"When you think about the challenges we have here in terms of the housing crisis, I do think that necessitates a higher fee for [short-term rentals]," he said.
"We also heard this morning [from city staff] that there is actually a shortfall between the fees collected currently for [short-term rentals] and the cost of enforcing the regulations. So that's very concerning to me."
Council's move comes as residents await the provincial government's plan to introduce legislation this fall that establishes new tools for local governments to help them better regulate short-term rentals in their municipalities.
Housing Minister Ravi Kahlon wouldn't share details when asked by reporters Aug. 28 about the legislation, but said he's heard about the "multiple challenges" from people around B.C. with concerns about the form of accommodation.
"This is not just Vancouver, this is now tourism-dependent communities that are coming to us saying, 'Hey, it was great [to begin with], but now we have so many short-term rentals that we have no housing left for our workforce,'" Kahlon said. "So we need to find a balance."
Vancouver first began regulating short-term rentals in April 2018.
Under the bylaw, a person who provides temporary accommodation in a dwelling unit other than a bed and breakfast or hotel is deemed a short-term rental operator and is required to obtain a business licence.
The accommodation must be provided in the operator's principal residence. The bylaw says an operator can rent their entire home, or a room within that home, for less than 30 consecutive days at a time.
4,439 short-term rental listings
According to the City of Vancouver's website, there were 4,439 active short-term rental listings in the city, as of Sept. 7, 2023. To date, the city has suspended 1,317 business licences, referred 204 cases to prosecution and issued 2,117 violation tickets.
Airbnb is the largest of several platforms offering short-term rentals in Vancouver and accounts for at least 82 per cent of all active listings, according to the city. The next largest platform is Expedia (including VRBO), followed by Flipkey, which is owned by TripAdvisor.
A city report in 2022 showed that downtown, the West End and Kitsilano were the most popular neighbourhoods in Vancouver in 2021 for homeowners and renters to list their residences for short-term rentals.
A map included in the "short-term rental 2021 highlights report" showed the three neighbourhoods accounted for 986 of the 2,323 listings on Airbnb and other short-term rental platforms.
Downtown was by far the most popular, with 633 listings, according to the map, which captured all short-term rentals operating as of Dec. 23, 2021 across 22 neighbourhoods. South Cambie (24), Kerrisdale (31) and Killarney (35) had the fewest listings.