The story Steven McKeen shares about losing his lower right leg to frostbite is a difficult one to comprehend in these modern times.
At the same time, the reality of what it is like to struggle with mental illness, addiction and homelessness is not always well understood by people.
McKeen knows this too well.
"I've been through a lot, and I'm still alive," said the 53-year-old from a room at a modular housing building in Vancouver that he moved into in July.
"I think I'd make a good counsellor for adolescents and teens. I know I'd be good at it because of what's happened to me in my life."
What happened to him in January 2007 is a raw and candid chapter in his story.
With little money, an addiction to crack cocaine and living with an undiagnosed mental illness, McKeen found himself in the Motel Hollywood in Surrey for five days.
The King George Highway slum, which has since closed, was notorious for prostitution and crime.
"Not the best place," said McKeen, who reached a point of despair, where he couldn't afford to pay the daily motel fee and eventually packed up his stuff and left.
"So I said to myself, 'You know what? I just want to die. That's it. It's over.'"
He walked around the back of the motel and saw what he described as a shell of an old truck, its engine gone. He pried open the door and crawled inside. When he shut the door, it locked, trapping him in there for four days.
It was snowing at the time.
McKeen, who was later diagnosed as bipolar, said he was able to keep himself alive by sucking on icicles. He called out for help, but no one answered until the fourth day.
He got out, went to a local convenience store to get food, before returning to the truck for shelter.
"The door slammed shut on me again," he said. "I was stuck in there for another four days and that's when the frostbite set in. The same guy got me out, and he's like, 'I think you should go to welfare.' I said, 'Nah, I think I'll go to the hospital first.'"
Doctors told McKeen his lower right leg had to be amputated to keep him alive.
"I said, 'Do what you've got to do.'"
60-unit complex at Main and Terminal
McKeen, who has worked in construction, at gas stations and in convenience stores, now has a prosthetic leg and walks with the help of a cane.
His other leg is also giving him trouble, with him getting regular treatment for cellulitis, a bacterial skin infection.
But life as he knew it during those days in the truck is much better, he said, pointing out his good fortune in getting a B.C. government-subsidized place to live at the newly opened modular housing project at Main Street and Terminal Avenue.
McKeen, who had been living in a shelter, moved in more than a month ago with 59 other tenants.
He said his drug addiction is in check and he now has stability in his life, something he hasn't had for several years.
"Things are going really well, and I can't complain about life right now," he said, noting he spends his days volunteering at the Gathering Place and finds time to take the bus to visit his parents in White Rock.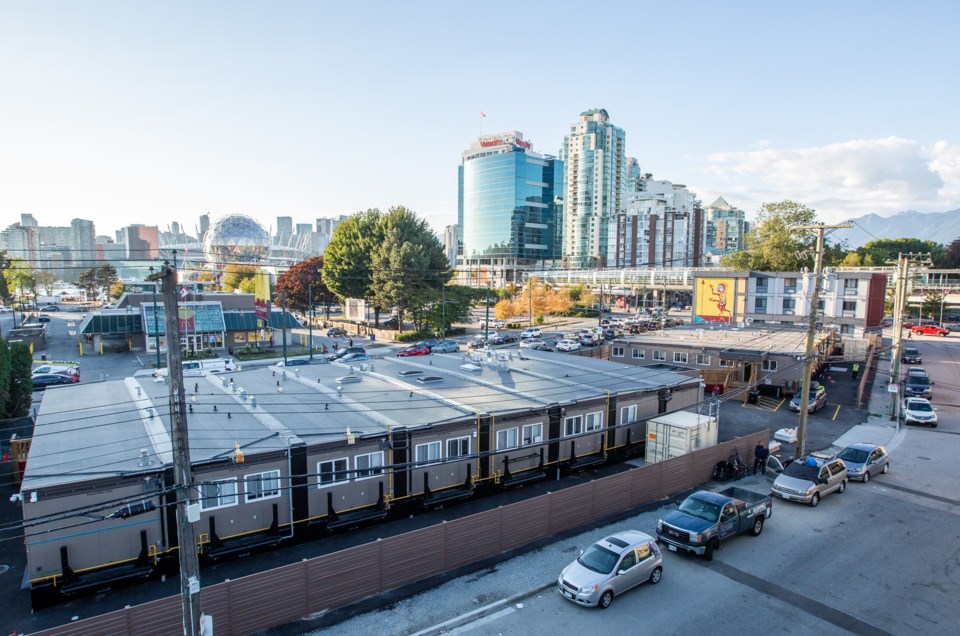 Delays in construction
The building is one of two that Premier David Eby announced in December 2022, with another 29 unit-complex to open soon on city property near the Olympic Village Canada Line station.
The estimated cost to build them was $6.9 million.
The premier promised both buildings would open in March 2023, but Housing Minister Ravi Kahlon told Glacier Media in June that supply chain constraints and "issues" with soil at the sites slowed progress.
"If I could go with a hammer and nail and go and build them myself, I would," Kahlon said at the time.
"It's not because of not wanting them — I wanted them yesterday. But the reality of everything — construction and getting supplies — there's just massive backlogs and delays, which we just cannot control."
Eby described the housing as "work camp," which is exactly what it is, with shared bathrooms, a central dining area where two meals per day are served, a television lounge and small rooms with a bed, desk and closet for each tenant.
The building is equipped with heat, air conditioning and laundry.
A designated drug consumption room is also on site, and tenants have access to health care and counselling.
During Glacier Media's visit Thursday, there was a team of workers from Lu'ma Native Housing Society — the site's operator — getting briefed before a shift change and discussing tenants' needs.
The housing, which sits on city land, is meant to be in place for at least three years, with tenants coming from shelters or other precarious housing situations.
The hope from government is that shelter space will be freed up for people living on the street.
A neighbour of McKeen's also spoke to Glacier Media, who agreed not to publish her name because she is a victim of an abusive relationship, having left her partner only recently and is trying to get her life back on track.
'Get my life back together'
Like McKeen, the woman was in the shelter system before a housing advocate helped get her on a waiting list with BC Housing, the government's housing arm. Her goal is to find permanent housing, having just landed a job as an art teacher at a high school.
For now, she is grateful to have what she described as a safe place.
"It's helping me get my life back together the way I want it to be," she said, noting issues with her ex-partner forced her to leave a previous teaching job.
"He still harasses me. He's offered me anything I want, if I'll come back, but that's not a good scene. I'm hoping now with my job, I'll be a better prospect for more options for housing."
She praised the staff employed at the building, where she recently participated in a drum-making session with an Indigenous man. She also attended a workshop on finances and how to budget money.
"Some people come in here and they're just a total mess," she said.
"They might not be taking all the classes, but they're still learning. Like some of my students who don't do anything at school. But as long as they're watching, they're learning. They still learn. And they're changing slowly."
Grade 12
McKeen, meanwhile, has plans to complete Grade 12 and begins courses in November.
It's a goal he's had for a long time.
But being bounced from shelter to precarious housing situation around the province, along with various stays at treatment centres, have made it difficult for him to focus on that goal.
"I've always wanted to have my diploma," he said.
"Some people say you're too old to get your diploma, but there's people that go to school and they're 70. Once I have that diploma, I can pretty much do anything — go to university, go to college. I just want to have it."