B.C. is seeing an increase in health-care visits due to respiratory viruses, but COVID-19 is not to blame.
During Wednesday's press conference, Dr. Bonnie Henry encouraged British Columbians to get their influenza immunization this fall, along with their COVID-19 booster shots, as people across the province fall ill during this year's respiratory virus season.
While influenza has been largely non-existent over the past two fall seasons due to the measures that were in place to slow the spread of COVID, the province has seen a spike in influenza cases in the past week and a half.
The common cold has also been one of the most widespread respiratory illnesses seen in the province.
"For the last couple of months, one of the main causes of respiratory illness across the province has been enteroviruses and rhinoviruses, and those are ones that we call the common cold," Henry said.
"Where we're seeing the big increase in young people is influenza. And I say this to make the point that, really importantly, influenza is a vaccine-preventable disease. We have good vaccines that work well in children.
"We know that children often don't get very sick from it, but some of them do, but they can also pass it on to others."
She noted the spread of influenza has occurred earlier this year than years past.
Health Minister Adrian Dix said the increase in respiratory illnesses has put pressure on B.C.'s hospitals, leading to long wait times in emergency departments across the province.
Through September and October, B.C. had an average of about 6,700 emergency department visits, but that daily average has increased to 6,795 visits through November.
This increase in hospitalizations is largely being driven by respiratory illnesses in young people, Henry said, but ICU care and emergency visits have increased across all ages.
Despite long wait times at some hospitals, Henry urged people to still attend hospitals if they require care, where they'll be triaged based on need.
While it varies across hospitals, the province's average hospital bed capacity is at 95.4 per cent this month, which is up one per cent from September. Dix noted hospitals have plans in place to increase capacity if needed, but this has not been necessary.
While COVID-19 has been the biggest concern in B.C. over the past several years, Henry noted that it has not been driving the increase in hospital visits.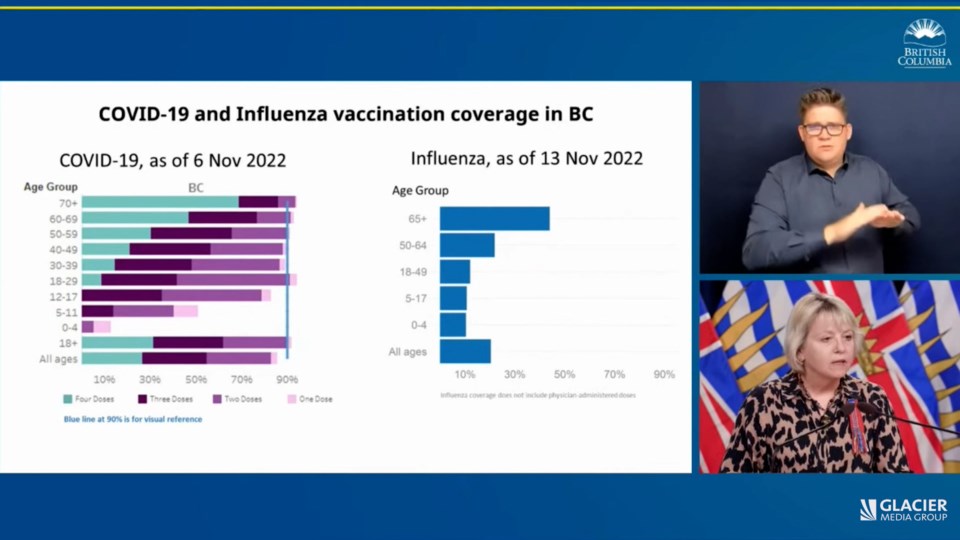 She noted most British Columbians now have built up a strong immunity to COVID-19, due to vaccinations and prior infection, and most people are not at risk of serious infection due to the notorious virus.
"People who are vaccinated with at least two doses have half the rate of hospitalization, critical care, or risk of dying and that is four times higher if we look at people who have one booster dose," she said.
"It is unlikely ... with our level of immunity that we have in British Columbia, that we're going to see [a new variant that is] markedly different arise in the near term here in British Columbia, but we're also watching what's happening globally."
Henry said she doesn't believe there will be a need for additional broad restrictions moving into the holiday season, but they'll be monitoring the situation through December.