How long does it take to approve, build and open 10 "tiny shelters" in Vancouver?
Answer: There isn't one, yet.
In February 2022, the previous city council approved a $1.5-million project to set up 10 tiny shelters for homeless people in a parking lot adjacent to an existing shelter located in a former storage building on Terminal Avenue.
The 100-sq.-foot structures, which were advertised in a city staff report to be equipped with heating and air conditioning, were going to be the first of their kind allowed in Vancouver, which continues to be challenged by homelessness.
The project was approved as a two-year experiment.
City staff originally anticipated the shelters, which can accommodate up to two people each, would open last September. Then the opening date shifted to spring of 2023.
Now, according to an email Thursday from a city communications representative, the shelters are not anticipated to open until the fall.
Why?
"There have been delays related to additions to scope of work, site condition challenges to overcome and the hybrid model of modular and on-site construction that have required increased coordination to operationalize the tiny shelter structures," the city representative said.
So far, six of the 10 shelters have been built, as observed by Glacier Media in a recent visit to the site. The wooden structures sit in the parking lot of the former Butler Box and Storage building at 875 Terminal Ave., near Clark Drive.
It's the same neighbourhood where people continue to sleep in tents, in cars and recreational vehicles. A modular housing complex is also nearby, located across train tracks from the former storage building, which opened as a 60-bed shelter in May 2021.
Shelter guests are offered 24-hour staff support, meals, washrooms and laundry. The same services will be provided to people who move in the tiny shelters.
Shelter cost estimated at $460,000
Council approved a budget of $1.5 million for the project, with at least $1 million to go to Lu'ma Native Housing Society, which operates the current shelter — known as Klahowya Tillicum Lalum — and would be responsible for managing the tiny shelters.
A city staff report estimated the cost to build the 10 tiny shelters at $460,000; staff have referred to the structures as shelters, not homes, because they don't have washrooms or cooking facilities.
According to the city's list of bids awarded in 2022, Pittfield Design Inc. beat out seven other companies vying for the contract. Pittfield was awarded $223,200, according to the city's list, which does not provide further details of the contract.
It isn't clear whether the $223,200 is half of the estimated $460,000 budget and the second half will be paid upon completion — or $223,200 is what the company bid to build the 10 tiny shelters.
The city wouldn't disclose details of the contract.
Rob Calis of Pittfield said in an email Friday that "the balance of the units will be on-site shortly."
"It has taken extra time to create these safe and comfortable shelters but in doing so has created the perfect template for future projects within the city and province," Calis said.
"At the beginning of the city's tiny shelters pilot project, the shelters, called ZenDenz, were to be a comfortable 'roof over the head' for those experiencing homelessness. As the project progressed, the shelters morphed into much more than that."
Calis said the companies worked with various city departments and the project architect to create shelters that meet "the most stringent building codes for housing in Canada and probably all of North America."
The units will have smoke and heat detectors, alarms and exterior strobe lights to indicate when an alarm is triggered. The alarm system is connected to a central monitoring facility.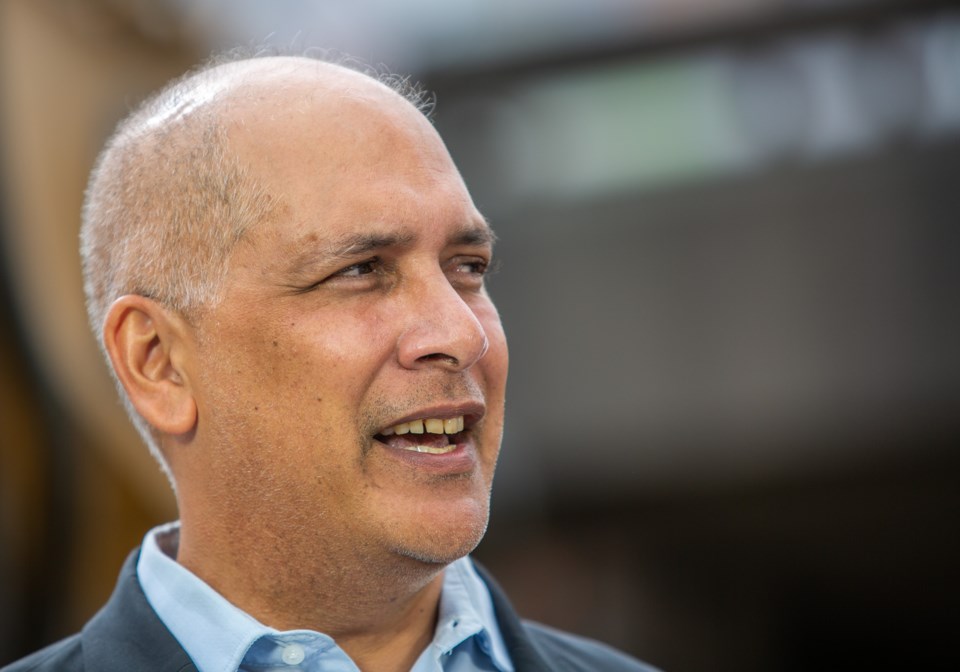 'Rapid deployment'
Coun. Pete Fry, who voted in February 2022 to run the two-year tiny shelter experiment, said Thursday he was frustrated by the delays, noting the project was supposed to be an urgent response to Vancouver's homelessness crisis.
"The whole point of [these shelters] was they would be for rapid deployment — that was the whole idea," Fry said.
In May, Fry attended a Federation of Canadian Municipalities' conference in Toronto, where he visited a tiny shelter display model set up at an exhibition hall by an Everett, Wash. company called Pallet.
Fry was so impressed with what he saw, that he posted a video to Twitter, the social media platform now known as X. Pallet was one of the unsuccessful bidders for Vancouver's tiny shelter experiment.
"They've got locking doors, they have opening and closing windows, fold-down cots, fold-down desk," Fry said in the video. "It's assembled with fibreglass and aluminum. They pack flat like an Ikea [product] and assemble in about 20 minutes at a cost of $15,000."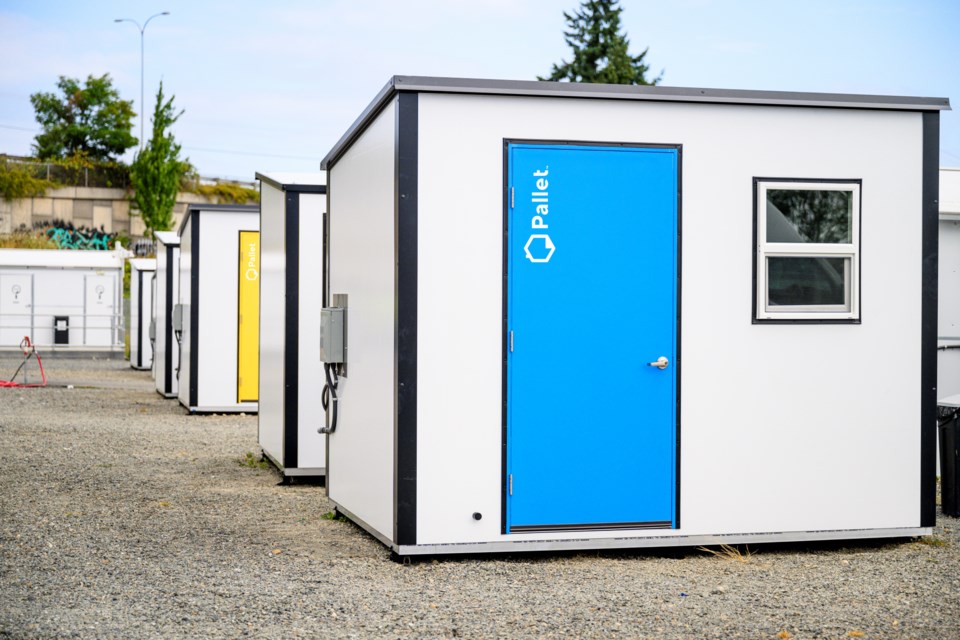 'We could have them set up this weekend'
Glacier Media spoke Thursday to Pallet's CEO Amy King via a Zoom call. Russell Lagasse, who is in charge of Pallet's Canadian division, also participated in the interview. But neither King nor Lagasse disclosed details about Pallet's failed bid for the Vancouver project.
Though the company's headquarters is in Washington State, King has dual U.S.-Canadian citizenship and Lagasse is a Canadian based in Calgary.
The company has primarily set up shelters and village-sized operations in the U.S. for people displaced by homelessness and natural disasters, but installed 13 double-bed shelters in London, Ont. in the spring.
Pallet has shelters set up across 85 cities in 21 states, with almost all of them in response to homelessness. The closest example for Vancouverites is a tiny shelter village operating in Burlington, Wash., which is a short car trip down Interstate 5.
"I have 10 shelters in stock right now that I could send and we could have them set up this weekend," King said. "We have the scale and capacity to produce in mass and get product out quickly. We don't custom build them. We have them on the shelf most of the time."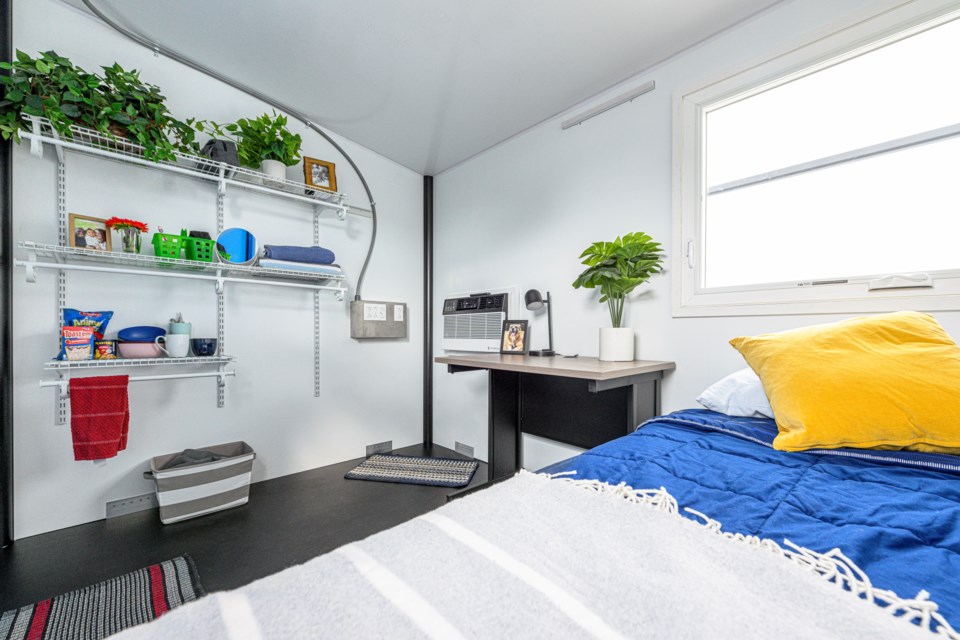 'Political will'
At the same time, King acknowledged, there are barriers to securing contracts and quickly deploying the shelters — barriers that are, in large part, out of the hands of the company.
"The biggest things that we find tend to be barriers to success with this model are availability of land, funding and political will," she said. "If you have those three things, you can do this, and you can do it easily."
Added King: "We've done it as fast as 10 days — an entire site of 60 shelters in 10 days from the time they called me until people moved in. And we've also had sites that have taken years. It just depends on what's going on in that city."
King described Pallet as a "social purpose corporation," where the majority of staff are people who are experiencing homelessness or have experienced homelessness, she said, noting the company is a living wage employer and offers wraparound support, care and training "to those folks who build the product for us."
'Perfect and predictable'
More locally, Lanefab Design/Build has pushed for years to have Vancouver set up tiny shelter or tiny house villages. The company also made an unsuccessful bid for the 10-unit project on Terminal Avenue.
Bryn Davidson, the co-founder of Lanefab Design/Build, told Glacier Media in November 2021 that he drafted designs, built a prototype and reached out to city staff with his expertise, but had made no progress.
"We need some temporary solutions, we need some things that can be done quickly," Davidson said at the time.
"There's a tendency in this city to focus on things being sort of perfect and predictable in the way that you might get with an apartment building-style type of structure. But I think something like this could definitely fill a need, and be done in a lot less time and cost, and they can still be accessible and comfortable."
Meanwhile, results of Metro Vancouver's homeless count conducted in March are expected to be released sometime this fall, with predictions that homelessness has increased since the last count in 2020.
If Vancouver does open the 10 tiny shelters, it will not be the only city in B.C. to do so. Duncan and Victoria have both experimented with the structures. The B.C. government announced in December 2022 that Port Alberni would be getting a 30-unit village.
Pittfield is also under contract for the project in Port Alberni, which is expected to open this month.
Note: This story has been updated since first posted to include comments from the builder under contract with the City of Vancouver.