After a brief flurry of activity in May, home sales in B.C. in June saw a typical early summer decline, according to statistics released July 14 by the British Columbia Real Estate Association (BCREA).
The BCREA reported that 6,960 residential unit sales were recorded by the province's Multiple Listing Service (MLS) in June, a drop of 15.3 per cent from May's 8,221 sales. 
It's also a decline of 11.8 per cent compared with the same month last year, according to the association.
BCREA hinted that sales could have been higher if the qualifying interest rate for borrowers was less onerous and had eased in line with declining mortgage rates (see graph below). "B.C. home sales moderated lower in June after a stronger showing in May," said Brendon Ogmundson, BCREA's deputy chief economist. "While mortgage rates offered by lenders have moved below three per cent, a static qualifying rate has limited the impact of the lower cost of borrowing." The comment follows BCREA's study findings issued July 10, which reported that sales in 2018 would have been 10 per cent higher without the mortgage stress test.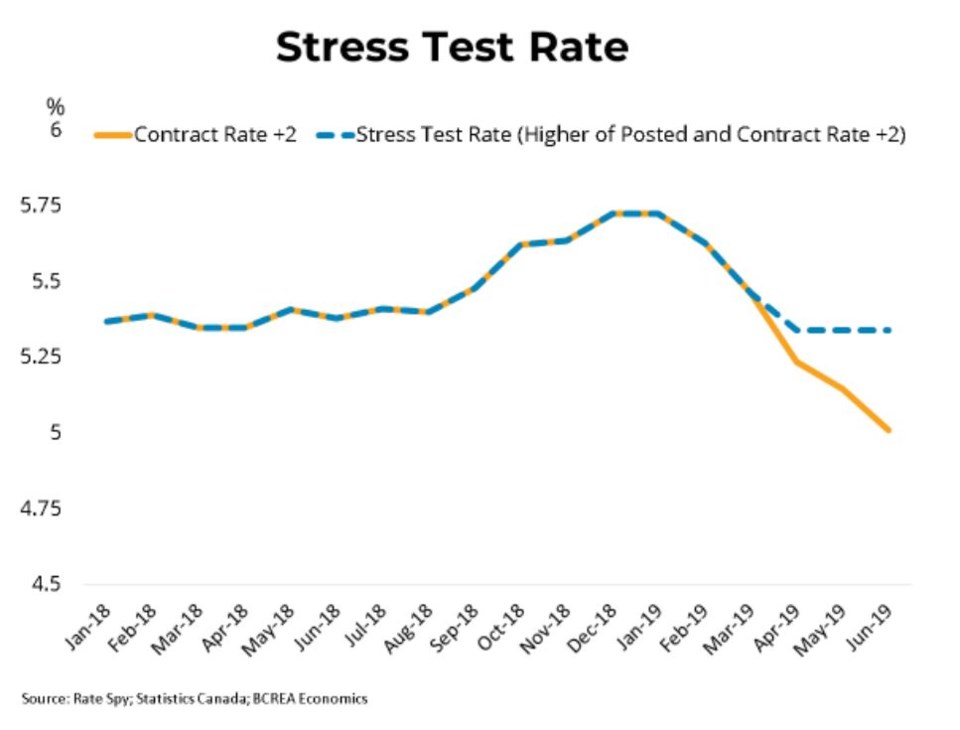 The average home resale price in the province in June was $687,584, said the BCREA, which is four per cent lower than in June 2018. Total sales dollar volume was reported at $4.8 billion for the month, a 15.3 per cent decline from the same month last year.
The slower absorption rate has pushed the total number of B.C. homes available on the MLS up 18.6 per cent year over year, to 42,625 units.
The markets vary widely from region to region across B.C., however. Most of the major declines in June were in Greater Vancouver and the Fraser Valley. Northern B.C. – including Prince George and Kitimat – as well as Vancouver Island and Victoria are all seeing robust markets in different ways, with home resale prices in Northern B.C. up nine per cent year over year. Victoria's resale prices are down slightly, but the capital region is still in a strong seller's market, with a sales-to-active-listings ratio of nearly 29 per cent. Vancouver Island home sales are down on an annual basis, but average resale prices are still rising, up nearly five per cent year over year.
The BCREA is optimistic that home sales across the whole province will gradually improve over the next two years, according to its latest forecast.
Across the country, home sales in June were a modest 0.3 per cent higher than one year previously, with more substantial annual gains in Toronto and Montreal offsetting B.C.'s losses, according to the Canadian Real Estate Association (CREA).
However, compared with May's sales, Canada-wide home transactions were down 0.2 per cent in June.
The national average price for a home sold in June was just under $505,500, up 1.7 per cent from the same month last year, said CREA.