It took just 15 minutes for police conducting commercial vehicle checks in Burnaby Tuesday to find a truck and driver that needed to be taken off the road.
The driver was operating an 11,700-kilogram cargo truck unsupervised with a learner's licence – a licence he didn't actually have on him, according to RCMP Const. Kevin Connolly, Burnaby's commercial vehicle enforcement officer.  
As for the vehicle, half the lights on the truck were burned out, and tape was holding together a crack in the frame, Connolly said.
Situations like these are all too common.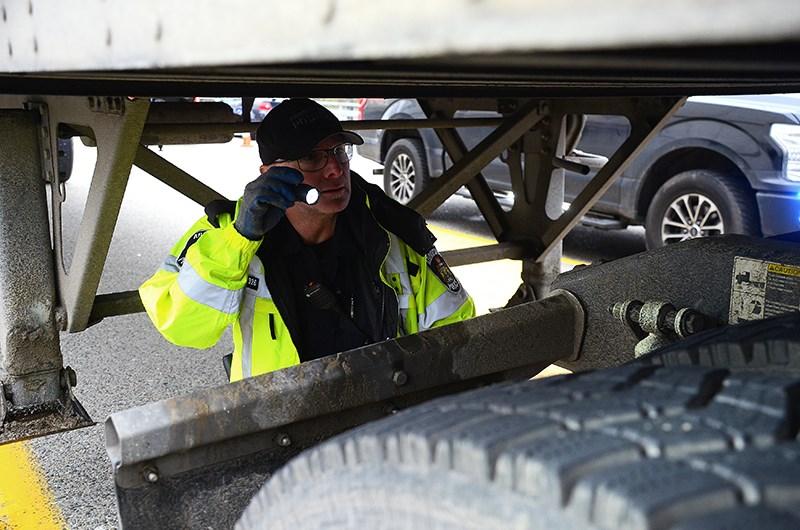 Last year, 40% of the more than 400 commercial vehicles pulled over and checked in Burnaby had to be taken off the road because they were unsafe, according to Connolly.
But he hopes a growing awareness among law enforcement agencies about the importance of commercial vehicle enforcement will translate into changes on the road.
It could be a matter of life and death, according to Connolly.
"When a commercial vehicle accident happens, it's almost always bad because of the size of these vehicles," he said.
Officers from 14 different law-enforcement agencies across the Lower Mainland will be in Burnaby all this week for a concerted four-day commercial vehicle enforcement blitz, with check stops set up at multiple locations each day.
First, officers will check to make sure the drivers are sober, properly licensed and not prohibited from driving.
Officers will then inspect the vehicle and ensure its cargo is properly secured.
Large trucks carrying their maximum allowable cargo weight might weigh three to four times more than the truck itself, Connolly said, and shifting cargo can flip the vehicle onto its side.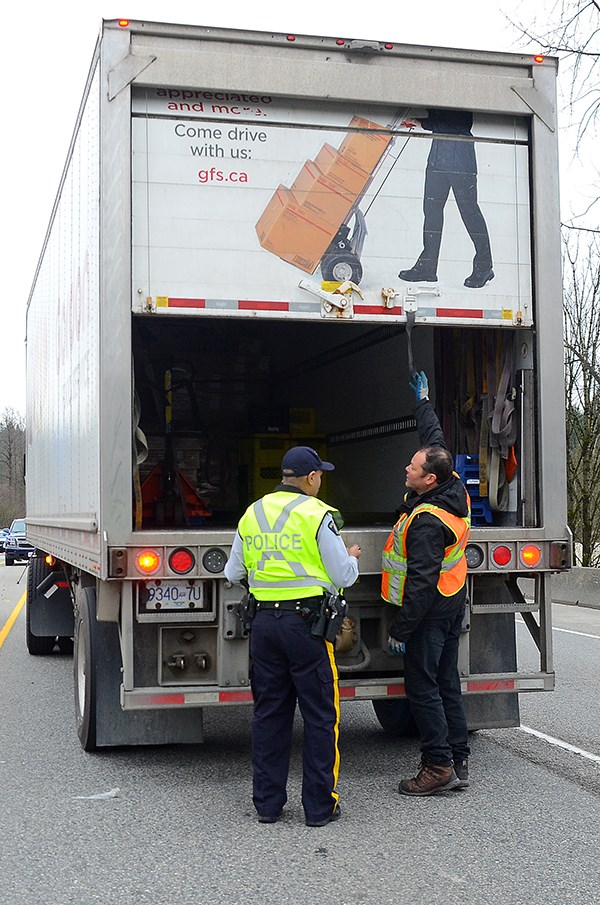 "And as soon as that truck lands on its side, until gravity and friction from the road stops it, that truck is going into whatever is in its path – that could be pedestrians, that could be other cars," Connolly said.
Finally, officers will check to make sure drivers have filled out all the documents they're supposed to, including daily pre-trip inspections.
Every day, drivers operating commercial vehicles are required to run through a checklist to ensure their vehicles are in compliance before they take them out onto the road.
If more of them did that, there would be less work for police, according to Connolly.
"They're going to be looking for the same things that we are," he said.
This week's enforcement in Burnaby is one of dozens that will be held throughout the Lower Mainland this year.
Connolly said the region's law enforcement agencies got together in January to work out a schedule for joint enforcements.  
For Connolly, a regional approach is the way to go.
"Commercial vehicle enforcement needs to be collaborative," he said. "Most of these trucks here today are not just staying in Burnaby. They're going over to New West; they're going to Abbotsford; they're going up to Whistler."