North Shore Rescue isn't above asking for a little help when they need it, especially if it means helping someone else.
The team has assigned a very special mission to a seven-year-old boy with a very serious illness.
Mike Danks, North Shore Rescue team leader, recently received an email from a fellow firefighter at a brigade in Ireland, asking for a show of support for his nephew Adam.
"Adam has been diagnosed with terminal cancer, and he had six months to live. He explained that Adam was really into police and fire, and that was really the only thing that was bringing him happiness at the time," Danks said. "It really kind of took my breath away when I got that email and, I just thought, wow, we can make a difference for him."
Fire and police departments from around the world recorded videos wishing Adam well, but Danks wanted the volunteer rescue team to do something special.
"It just really made me think of how do we take this a little bit further for Adam and let him come be a part of this for a day?" Danks said.
For "the Adam Project," as they are calling it, they teamed up with Grant Baldwin, director of Peg Leg Films's wildly popular Search and Rescue: North Shore docuseries on the Knowledge Network.
Baldwin repurposed some existing footage of a helicopter long-line rescue and then shot some new scenes with Danks that put Adam in the microspikes of a North Shore Rescue volunteer. Seen from a seven-year-old's perspective, Danks supplies Adam with a rescue briefing and the gear he'll need before sending him off to the rescue. With Adam's family's co-operation, they got the boy to record some audio clips, which have been edited into the footage.
They also sent Adam a care package that includes a North Shore Rescue jacket with his name embroidered on it, plus all of the safety gear featured in the video.
"He can go through that and feel like he's a part of North Shore Rescue," Danks said.
North Vancouver artist Emily Rubin contributed a picture of Adam's rescue with the skyline of his own hometown added in the background.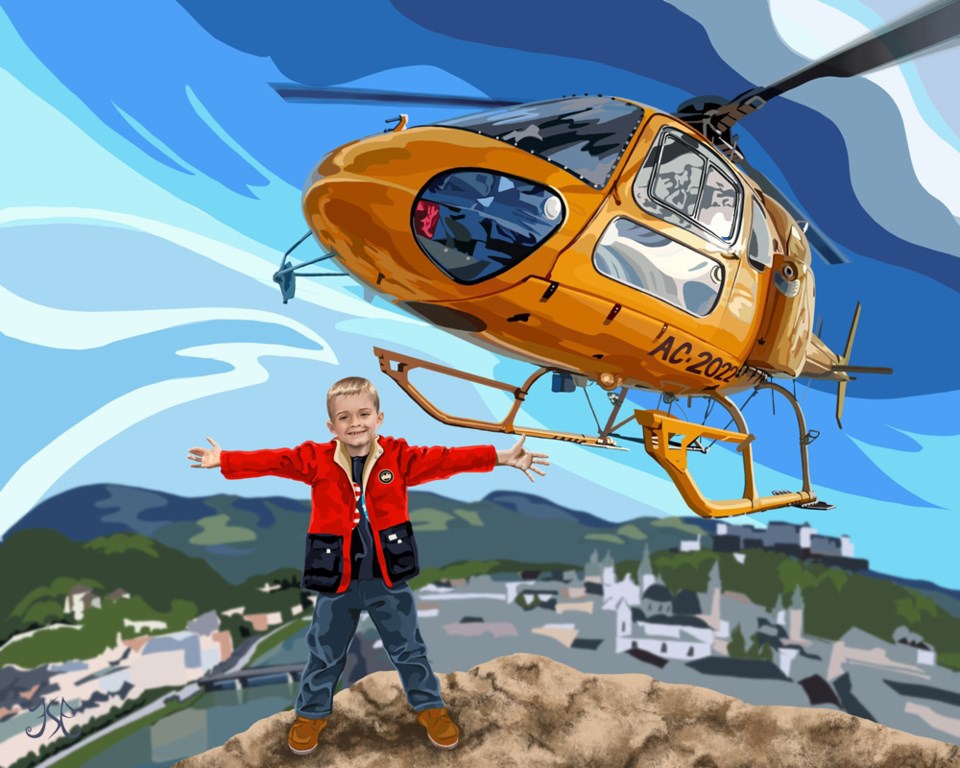 The team published the video for Adam and the rest of the world to see on the North Shore Rescue Facebook page on Friday (June 3). The hope is that people will watch it, and leave a positive message for Adam.
"Hopefully, if we get traction from the community, he'll see all the support that we have here in Canada," Danks said.
More than raising the spirits of a little boy in Ireland, Danks wants to raise money for those like him at home. Danks, along with fellow first responders from the North Vancouver RCMP, North Vancouver City Fire Department and West Vancouver Police Department – Darren Beckett, Neil Jones, Cody Disalvo, Samantha Falconer and Chris Bigland – have all signed up for the 2022 Cops for Cancer Tour de Coast to raise money for the pediatric cancer research through the Canadian Cancer Society and Camp Good Times, which serves kids and their families going through cancer.
"We want people to donate to the Cops for Cancer to make a difference for people like Adam and his family," he said.